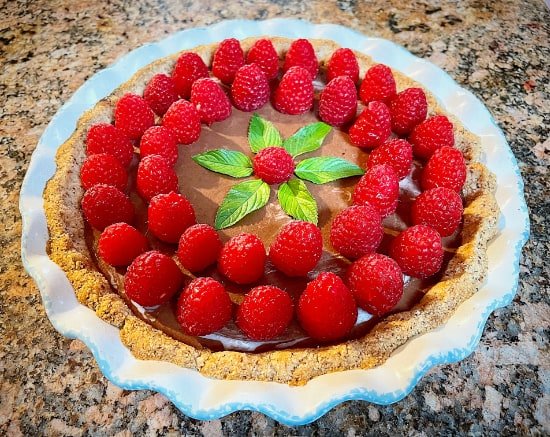 Summer raspberries are here! And what goes better with berries than chocolate? This chocolate ganache pie is topped with fresh raspberries and a dusting of confectioner's sweetener. It's an easy recipe with a super elegant presentation for those times when you want to make something fancy without having to spend all day making it.
Keto Raspberry Chocolate Ganache Pie Recipe
Directions:
Add the chopped chocolate to a heatproof bowl. Heat the cream in a small saucepan over medium heat until it just starts to simmer. Whisk in the sweetener and stir until completely melted.

Pour heated cream over chocolate and allow to sit for a minute. Stir chocolate until it is completely smooth and melted. Stir in vanilla extract and brandy (if using). Pour into chilled pie crust and refrigerate 4 hours or until firm.

Decorate with fresh raspberries and dust with powdered sweetener (if using). Garnish with mint leaves. Cut and serve.
Did you make this sugar-free keto raspberry chocolate ganache pie recipe? Please let me know how it turned out in the comments. Or if you share pics of your creations on Instagram, please tag me so I can see them. Enjoy! :)