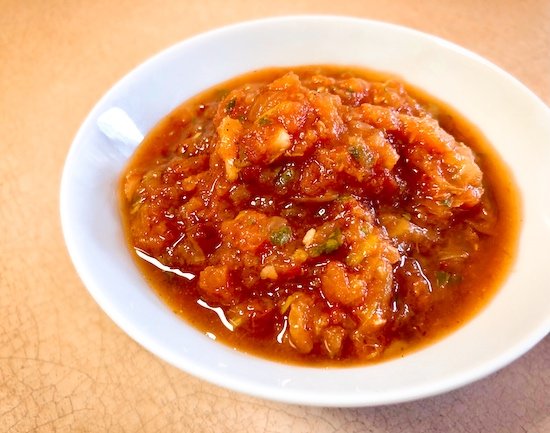 There are so many different takes on salsa. I wanted to come up with one that used roast tomatoes chipotle peppers, leading to this keto-friendly roast chipotle salsa recipe. Tasty on its own with chips or with your favourite tacos, salads, and sandwiches!
Vegan Keto Roast Chipotle Salsa Recipe
2 pounds roma tomatoes, halved
1 medium yellow or white onion, sliced into ½ inch slices
1 medium red onion, sliced into ½ inch slices
4 cloves garlic, peel still on
1 to 2 chipotle peppers in adobo sauce, chopped, plus 1-½ teaspoons adobo sauce
½ teaspoon ground cumin
1 teaspoon flaky sea salt (like Maldon or Fleur de sel, to taste
½ teaspoon freshly ground black pepper
½ cup fresh cilantro, finely chopped
2 tablespoons lime juice, freshly squeezed
Directions:
Move your oven rack to the top portion of your oven and preheat to broil. Place the tomato halves (skin side up), onion slices and garlic onto a rimmed, metal sheet pan. Slide the pan under the broiler and roast for 6-8 minutes or until the skin on the tomatoes have blackened.

Allow to cool until the tomatoes and garlic cloves are safe to handle. Remove the skin from the garlic and the seeds and peels from the tomatoes. Add the tomatoes, onions, garlic, chipotle peppers, adobo sauce, salt, pepper, cilantro and lime juice. Secure the lid and pulse until you've reached a desired consistency.

Taste and check to see if it needs more salt. Then either serve immediately or cover and refrigerate until you're ready to serve. Should last up to a week or so in the fridge.
Did you make this keto roast chipotle salsa? If so, please let me know how it goes in the comments. Or if you share pics of your creations on Instagram, please tag me so I can see them. Enjoy! :)