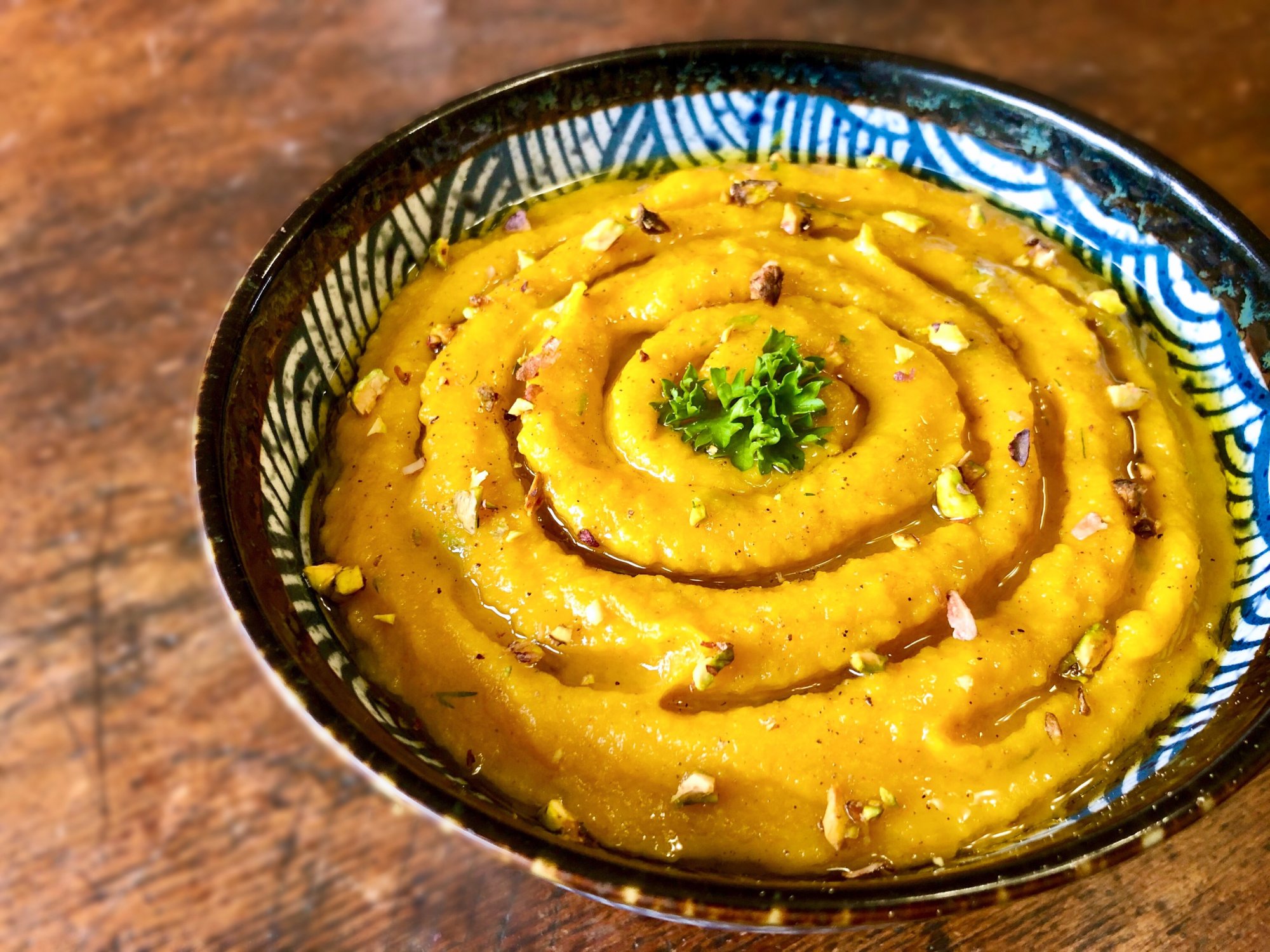 I enjoy having dips on my carb-up days, but I do get tired of hummus and bean dips. That's why I tried doing this hearty roast golden beet and split pea dip. Golden beets have such lovely colour, so it only made sense to pair them with a golden pea, yellow split peas. Throw in some spices, fresh lemon juice and top with fresh herbs, nuts and a splash of extra virgin olive oil, and pair with some crispy gluten-free chips or chopped veggies.
Carb-Up Vegan Roast Golden Beet and Split Pea Dip Recipe
Ingredients:
Directions:
Preheat oven to 400F. Wash beets. Leave a little damp so that the salt sticks to the skin's surface. Season the outside flesh with kosher sea salt. Wrap tightly with one layer of parchment paper and foil. Lay wrapped beets on a small baking sheet and bake for 45-60 minutes. Beets should be tender not mushy. Open the foil slightly to vent slightly. Allow to cool. Remove skin and trim ends. While the beets are cooking, cook the split peas. I like to do mine in the Instant Pot. Set to high pressure with a cup of water for 20 minutes. Drain and allow to cool. (*You can cook the split peas on the stove top, bringing them to a boil then simmering for 60 minutes.)

Blend roast beets, cooked spilt peas, cumin, garlic, salt and lemon juice together in a food processor or high powered blender. Add olive oil slowly, one teaspoon at a time until a creamy consistency is reached. Taste and adjust. Blend again to incorporate. Add water if texture is too thick.

With a silicone spatula, transfer to a bowl. Refrigerate for at least 1 hour. Mixture will thicken once refrigerated. Serve at room temperature and garnish with chopped pistachios, parsley or cilantro, flaky sea salt and a drizzle of olive oil before serving.
Did you make this carb-up vegan roast golden beet and split pea dip recipe? If so, please let me know how it turned out in the comments. Or if you share pics of your creations on Instagram, please tag me so I can see them. Enjoy! :)