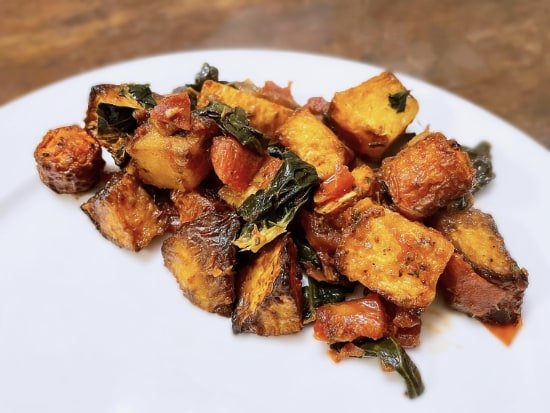 I had a number of random veggies kicking around but not enough to make a single dish out of any one of them. I decided to mix them up to create one single side dish that can be served to accompany a keto OR carb-up meal. It ended up being a big hit, and because it combines root veggies, leafy greens and tomatoes, it provides a broad spectrum of nutrition. And because it can be tweaked for different diets, I see this being a go-to side dish for any occasion.
Carb-Up/Keto Roast Root Veggies with Tomato and Kale Recipe
Ingredients:
1 lb root vegetables (*Use primarily turnip, celery root, rutabaga or jicama for keto. May include parsnips, carrots, sweet potatoes, or golden beets for carb-ups.), peeled and cut into chunks
1 head garlic, cloves separated and peeled
2 tablespoons avocado oil, divided
½ teaspoon kosher salt
2 tablespoons onion, chopped
1 teaspoon red wine vinegar
1½ cups tomatoes, diced
1 packed cup black kale (*May sub with mustard greens.)
½ teaspoon dried basil
¼ teaspoon dried thyme
¼ teaspoon crushed red pepper flakes , plus more for garnish
Black pepper, to taste
2 tablespoons extra virgin olive oil, for finishing if desired (*For keto only.)
Directions:
Preheat oven to 425F. Into a large roasting pan, mix together the vegetables, garlic, and 1 tablespoon avocado oil. Sprinkle with salt. Roast for 45 minutes, turning the vegetables over in the pan halfway through cooking.

While the root vegetables are roasting, in a 4-5 quart enamelled Dutch oven or large stainless steel skillet, heat remaining avocado oil over medium heat. When the oil is hot, add the onions and sauté until the edges of the onions just begin to brown. Deglaze the pan with the red wine vinegar, and cook a minute longer.

Add the diced tomatoes, basil and thyme. Bring to a simmer, then lower the heat to the lowest possible setting. Cover the pot and let cook gently while the root vegetables are roasting.

When the root vegetables are ready (they should be browned on the edges and easily pierced with a fork), remove from the oven. Add kale or mustard greens to the tomatoes. Simmer until the greens are wilted, about 5 minutes. Stir in the root vegetables. Season with salt and pepper to taste. Garnish with extra pepper flakes and extra virgin olive oil to taste if using.
Did you make this carb-up/keto roast root veggies with tomato and kale recipe? If so, please let me know how it turned out in the comments. Or if you share pics of your creations on Instagram, please tag me so I can see them. Enjoy! :)