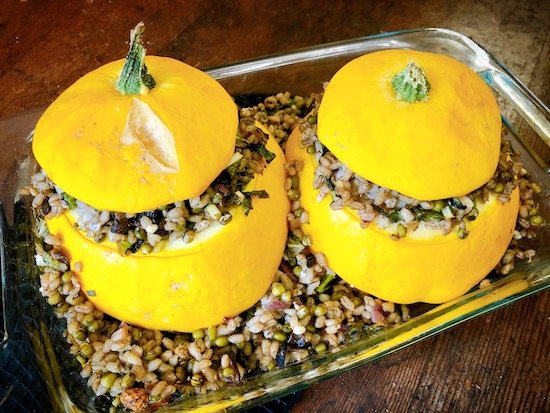 Now here is a hearty, filling vegan carb-up meal that won't leave you wanting. The texture combination of the barley, mung beans and tiger nuts, each also bringing their own unique qualities to the table, fibre, protein and sweetness respectively. Stuff all those along with a few veggies in your choice of roast squash, a perfect pretty package for all that goodness!
Vegan Carb-Up Roat Squash Stuffed with Barley, Mung Beans and Tiger Nuts Recipe
Ingredients:
3 tablespoons tiger nuts soaked overnight and drained
1 cup, uncooked potted barley, soaked overnight in 3 cups water, rinsed and drained
½ cup, uncooked mung beans, soaked 4-5 hours in 2¼ cup water and ½ tablespoon kosher salt, rinsed and drained
1 cup white mushrooms, diced
3 tablespoons lemon juice, freshly squeezed
½ cup red onion, diced
2 garlic cloves, minced
1 cup mustard greens, collards or chard, roughly chopped
1 oz. feta cheese, crumbled (*Optional if not vegan.)
½ cup fresh oregano or basil, chopped (plus a little extra for garnish)
2 large patty pans squashes or small acorn squashes
Kosher sea salt and freshly ground freshly ground black pepper (to taste)
Directions:
Cook the soaked pot barley and tiger nuts in an Instant Pot for 22 minutes on high pressure. Use instant release to release the pressure, then remove from pot, rinse and drain. Then set the soaked mung beans to cook in the Instant Pot for 0 minutes with a 10 minutes natural pressure release. Drain.

Preheat oven to 350F. Cut off the top third of each squash, and scoop out the seeds and pulp, then scrape out the inside flesh with a small cookie scoop or melon baller, leaving a 1" shell intact. Coarsely chop the flesh. Place squash bowls in an 11x13" baking dish and sprinkle with salt. Bake in preheated oven 10 minutes.

Heat a large stainless steel skillet to medium. Spray with cooking spray then add onion, sprinkle with salt, and sauté until softened, around 3-4 minutes. Add minced garlic and sauté until fragrant, around 1-2 minutes. Add squash flesh with another sprinkle of salt and cook, stirring occasionally, until tender, about 3 minutes. Stir in mushrooms and mustard greens; sauté until greens are wilted, about 2 minutes. Uncover and cook until liquid is almost evaporated.

Transfer to a large mixing bowl and stir in with cooked mung beans, barley and tiger nuts. Allow to cool 15-20 minutes. Stir in crumbled feta and fresh herbs. Season with salt and pepper to taste. Spoon mixture into baked squash bowls and arrange in a casserole dish. Use any stuffing that is leftover to line the casserole dish around the squash.

Put the casserole dish in preheated oven until tops begin to brown and squash is tender, about 30 minutes. Garnish with remaining herbs, drizzle with olive oil and serve hot.
Did you make this carb-up vegan roast squash stuffed with barley, mung beans and tiger nuts recipe? If so, please let me know how it turned out in the comments. Or if you share pics of your creations on Instagram, please tag me so I can see them. Enjoy! :)