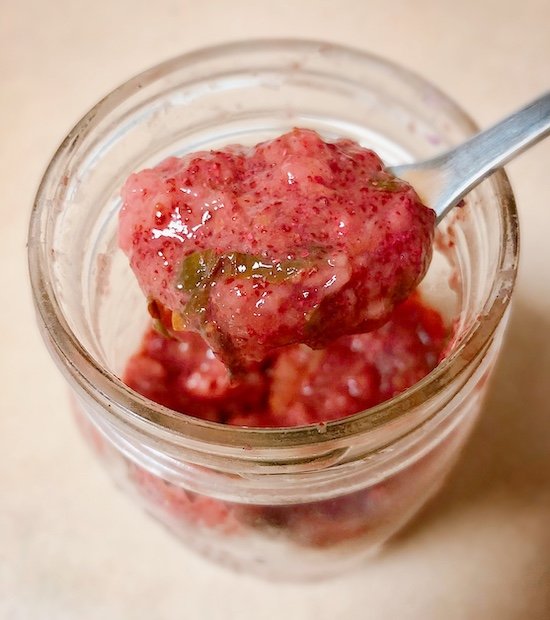 There are jams, then there are fancy jams. This keto-friendly roast strawberry basil balsamic chia jam definitely qualifies as the latter. Roasting the strawberries caramelizes them while the balsamic vinegar adds a touch more sweetness along with the acidity, pairing beautifully with the fresh basil for a more refined jam that goes well with fresh goat cheese, baked brie, or simply as a more elegant choice to go on your favourite keto bread.
Keto Roast Strawberry Basil Balsamic Chia Jam Recipe
Ingredients:
Directions:
Preheat the oven to 425F. Halve the large strawberries, keeping the smaller ones whole. Place the strawberries on a baking sheet lined with a silicon mat or parchment paper. Sprinkle with the erythritol and drizzle with balsamic vinegar and lime juice. Roast in preheated oven for 12 minutes.

Remove from the oven and place on a cooling rack for 5 minutes. Add the roast strawberries together with all of the juices in a medium mixing bowl. Use a fork to mash some of the strawberries but keep most of them whole.

Add the basil and sprinkle in the powdered chia seeds then mix until well combined. Set aside for 20-30 minutes completely cool and to allow the chia seeds to gel and soak up the juices. Spoon into jars, seal into jars according to your canning kits instructions. Alternatively, you can just close it up and store in the fridge for up to one week, or in the freezer for up to 3 months (just make sure you leave enough space at the top of the jar as the jam expands when it freezes).
Did you make this keto roast strawberry basil balsamic chia jam recipe? If so, please let me know how it turned out in the comments. Or if you share pics of your creations on Instagram, please tag me so I can see them. Enjoy! :)