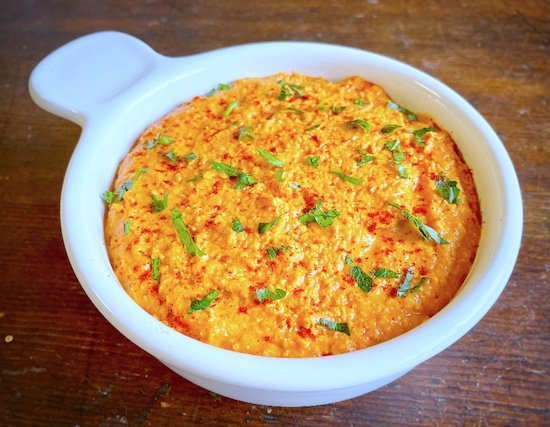 Roasted red pepper adds touch of sweetness and colour to hummus. And because it also adds a bit of liquid, you can cut back on the tahini to make it lower in fat for carb-up. Top with fresh herbs for taste and a pop of green and you have a lovely dip to enjoy on a carb-up day.
Vegan Carb-Up Roasted Red Pepper Hummus Recipe.
Ingredients:
Directions:
Heat broiler on high. Place pepper, cut sides down, on a rimmed baking sheet and broil until charred, 4 to 5 minutes. Transfer to a bowl, cover, and let sit until cool enough to handle. Peel off and discard skin.

Transfer peppers to a food processor, along with the rest of the ingredients to a food processor or high-powered blender, except the liquid from the canned chick peas, and puree until smooth. Add in the chick pea liquid as needed and continue to purée until you achieve desired consistency. Sprinkle with dill or parsley and serve with crackers and vegetables for dipping.
Did you make this vegan roasted red pepper hummus recipe? If so, please let me know how it turned out in the comments. Or if you share pics of your creations on Instagram, please tag me so I can see them. Enjoy! :)