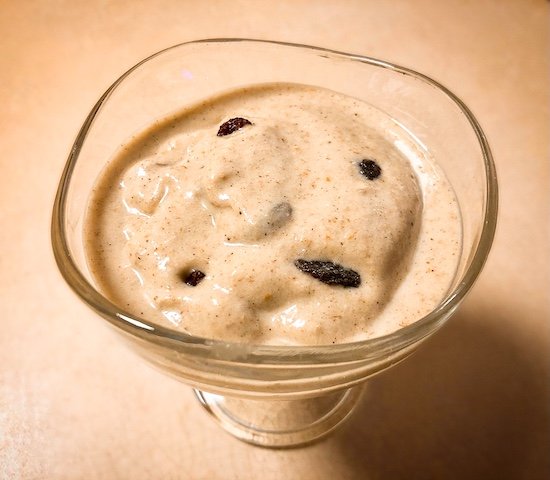 Rum raisin is an old school flavour for ice cream, which I decided to adapt to make a carb-up banana "nice cream," seeing that raisins are not keto-friendly. Bananas pair with rum so well, I figured it was a good way to go. My first attempt tasted too strongly of bananas, so I decided to add in some homemade tiger nut milk, keeping the blended tiger nuts for added flavour and texture. Tiger nuts are high in fibre, magnesium, zinc and potassium, making it a nutritious addition. No need for added sugar or sweetener since there is plenty enough in the bananas and raisins to make this healthy yet palatable, low-fat, dairy-free replacement for rum raisin ice cream.
Carb-Up Rum Raisin Tiger Nut Banana Nice Cream Recipe
Ingredients:
Directions:
Combine raisins with spiced rum in a small bowl and soak for 2 hours. Place sliced bananas on a baking sheet in the freezer for at least 2 hours.

Pour the tigernuts and liquid through a colander and rinse well.
Add soaked tiger nuts to a blender with ¾ cup of water and rum. Puree on high until smooth and creamy (1-3 minutes, depending on your blender).

Add frozen bananas, vanilla extract, and spices to a high-speed blender. Blend on low pushing the mixture down with a spatula as you go. Trickle in more milk as needed until a soft serve texture is reached.

Stir the raisins through and serve. Or if you prefer a harder scooping texture, put it in a container and freeze for at least 4 hours. If you freeze it longer than that, take it out of the freezer 10-20 minutes before serving depending on the ambient temperature of your home.
Did you make this vegan low-fat rum raisin tiger nut banana nice cream recipe? If so, please let me know how it goes in the comments. Or if you share pics of your creations on Instagram, please tag me so I can see them. Enjoy! :)