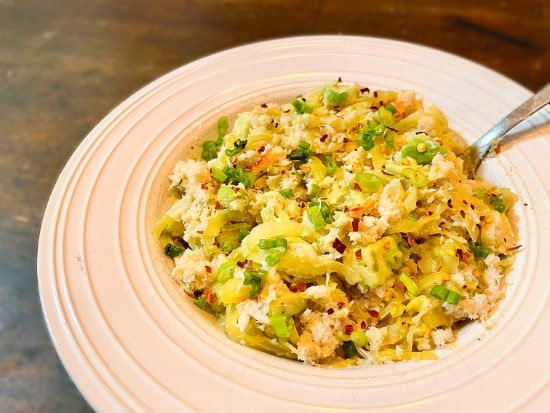 I wanted to make pasta-like dish using crab and avocado as topping ingredients, and rutabaga for the noodles. I decided to create a green onion vinaigrette sauce that complements the delicate crabmeat and creamy avocado, making a lovely, quick main dish that's also for a weekday night or even an elegant first course for a bigger dinner.
Keto Rutabaga Noodles with Crab, Avocado and Green Onion Vinaigrette Recipe
Ingredients
Directions:
In a blender, combine the garlic, lemon juice, vinegar, green onions, fish sauce, olive oil, and salt. Blend until smooth, then stir in the lemon zest. Cut the avocado into ½-inch dice and add to the vinaigrette.

Bring a large pot of unsalted water to a boil. Drop the rutabaga noodles in and cook for 3 minutes. Drain and and toss it with the vinaigrette and avocado. Season with salt and pepper to taste. Gently fold in the crabmeat. Sprinkle with the sliced scallion tops. Serve warm.
Did you make this keto rutabaga noodles with crab, avocado and green onion recipe? If so, please let me know how it turned out in the comments. Or if you share pics of your creations on Instagram, please tag me so I can see them. Enjoy! :)