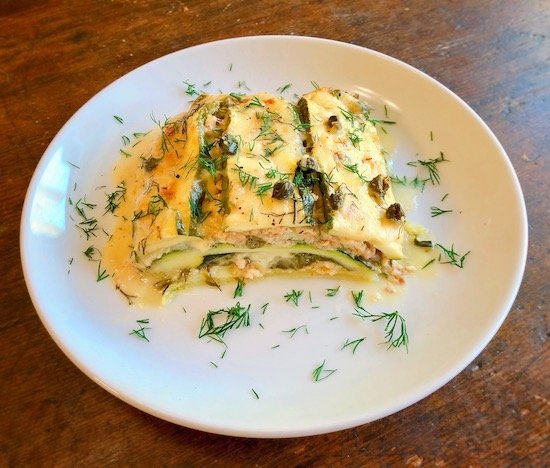 Keto Salmon Spinach Zucchini Lasagne Recipe
Sauce Ingredients:
Lasagna Ingredients:
3 medium zucchini
2 cans of wild salmon, bones removed, chopped into small pieces
½ teaspoon liquid hickory smoke (optional)
3 tablespoons capers
3 cups baby spinach, chopped
3 cups goat cheddar cheese, shredded (*Aged white cheddar also works.)
3 tablespoons fresh dill weed, chopped ¾ cup Parmesan cheese, grated.
Directions:
Cut off the top(s) and slice zucchini lengthwise ⅛-inch thick (*A mandolin slicer makes this easier.) Sprinkle with salt and lay out on a grilling or cooling tray.

In a large saucepan, melt the butter over medium heat. Add the green onion and garlic, and cook until softened, about 3-4 minutes. Sprinkle xanthum gum over the softened onions, then stir to combine.

Whisk in ¼ cup of the heavy cream until the xanthum gum is fully absorbed, then add cream cheese and stir in until melted. Add the remainder of the heavy cream and chicken broth into the mixture. Stir constantly until the sauce simmers and thickens, about 4-5 minutes. Stir in salt and pepper and remove from heat.

Preheat the oven to 350F. Put canned salmon in a medium bowl and combine thoroughly with liquid smoke (if using). Using paper towels, dab all the water off the zucchini. Now it's time to assemble the lasagna. Start by spreading ¼ of the sauce on the bottom of a 9x13-inch baking dish. Add one layer of zucchini on top. Now add ½ of the smoked salmon, ½ of the spinach on top. Add another ¼ of the sauce, ⅓ the capers, and of the fresh dill. Sprinkle with ⅓ of the goat cheese (or white aged cheddar) and Parmesan cheeses.

Repeat the layers starting again with the zucchini, then salmon, spinach, and another ¼ of the sauce, ⅓ capers and ⅓ of the dill then ⅓ of the cheddar and Parmesan cheeses.

Finish the lasagna by arranging the last of the zucchini on top, then spread with the remaining sauce and capers then sprinkle with the last of the cheddar and Parmesan cheese. Reserving the remainder of the dill for later.

Bake in the preheated oven for 25-30 minutes until hot and bubbly, finishing under the broiler on high for 2-3 minutes to add a little color to the top, being careful not to burn the cheese. Let the lasagna stand for at least 10-15 minutes before slicing and serving. Sprinkle with the last of the dill and serve with more freshly grated Parmesan if desired.
Did you try this keto salmon spinach zucchini lasagna recipe out? If so, let me know how it went in the comments, or tag me in any photos you share on Instagram so I can see your creation. :)