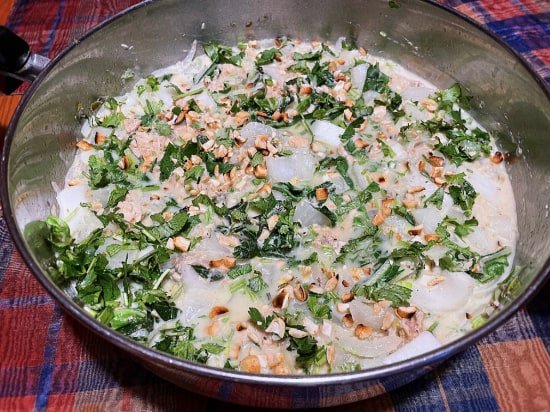 Thai green curry paste is so versatile. I like keeping it around and whipping up random curries like this salmon bok choy green coconut curry recipe I threw together yesterday. Green curry paste isn't as spicy as its red cousin, which is why I tend to like adding a little extra chile to the mix when I make it for myself, but it's still good without it!
Salmon Bok Choy Green Coconut Curry Recipe
Ingredients:
1 tablespoon extra virgin coconut oil
¼ cup green curry paste
2 teaspoons raw ginger, peeled and finely grated
2 garlic cloves, finely grated
½ teaspoon kosher salt , divided
One 14oz can full fat coconut milk
2 large cans of wild salmon (or 10 oz of cooked salmon), chopped with bones and skin removed
One 1½lb head bok choy, chopped into ½"-thick slices and leaves into 2" pieces.
2 tablespoons fresh lime juice
Fish sauce, to taste
4 scallions, thinly sliced
½ cup cilantro leaves with tender stems, chopped
¼ cup green onions, sliced
¼ cup cashews, toasted and chopped
1 serrano chile, thinly sliced (*optional)
Directions:
Heat a large skillet to medium heat. Melt coconut oil then add curry paste, ginger, garlic, and salt in a large high-sided skillet over medium heat, stirring occasionally, until simmering, 5–6 minutes.

Add bok choy to coconut milk mixture and stir to coat. Cook for 3-4 minutes or until bok choy is tender but still a little crisp. Stir in canned salmon and cook until heated through. Stir in lime juice and fish sauce to taste. Remove from heat.

Scatter scallions, cilantro, cashews, and chile (if using) over salmon and bok choy. Serve hot on a bed of steamed cauliflower rice.
Did you make this keto salmon bok choy green coconut curry recipe? If so, please let me know how it turned out in the comments. Or if you share pics of your creations on Instagram, please tag me so I can see them. Enjoy! :)