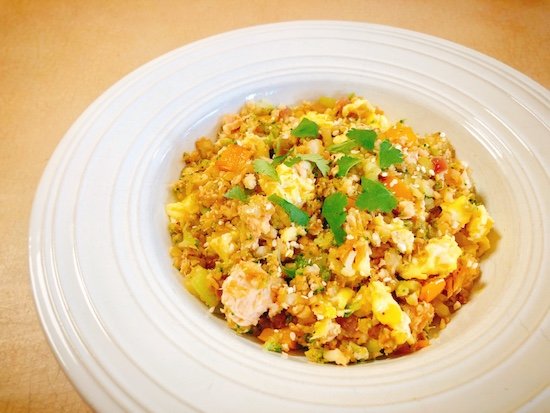 While fried rice is normally associated with chicken, pork, or shrimp, it still really works well with salmon when you add the right kinda of flavours to it. This keto-friendly salmon fried cauliflower rice is enhances with the umami flavour of fish sauce, along with sweet keto maple syrup.
Ingredients:
3 tablespoons tamari soy sauce or coconut aminos
1 teaspoon fish sauce
⅛ teaspoon white pepper
1 teaspoon keto maple syrup
2 tablespoon avocado oil, divided
½ cup red onion, diced
⅔ cup red bell pepper, diced
3 cloves garlic, minced
1-inch piece of ginger, grated
½ cup celery, diced
½ cup mushrooms, sliced
2 large eggs, beaten (*Or add tofu scrambled eggs for egg-free.)
4 cups cauliflower rice, or a mix of broccoli and cauliflower rice, cooked and cooled
1 cans of salmon
2 green onions, thinly sliced, including the greens
½ teaspoon toasted sesame oil
Fresh cillantro (or parsley), chopped (*for garnish)
Sesame seeds, toasted (*for garnish)
Directions:
Whisk together keto maple syrup with tamari soy sauce or coconut aminos, fish sauce and white pepper. Set aside.

Heat 1 tablespoon avocado oil in a large skillet or wok on medium heat. Sauté onion, bell pepper, and celery until softened, around 4-5 minutes. Add the second tablespoon of oil and lower heat to medium then stir in mushrooms, garlic and ginger and cook until fragrant, around 1-2 minutes.

Add the beaten egg and stir until just cooked. Add the cooked rice, increase the heat to medium-high and cook for a couple minutes more, stirring often.
4 Add salmon, green onions, soy sauce mixture, being careful not to break up the salmon too much. Stir in the soy sauce mixture and sesame oil and remove from heat. Garnish with cilantro and serve.
Did you make this keto salmon fried cauliflower rice recipe? If so, please let me know how it turned out in the comments. Or if you share pics of your creations on Instagram, please tag me so I can see them. Enjoy!