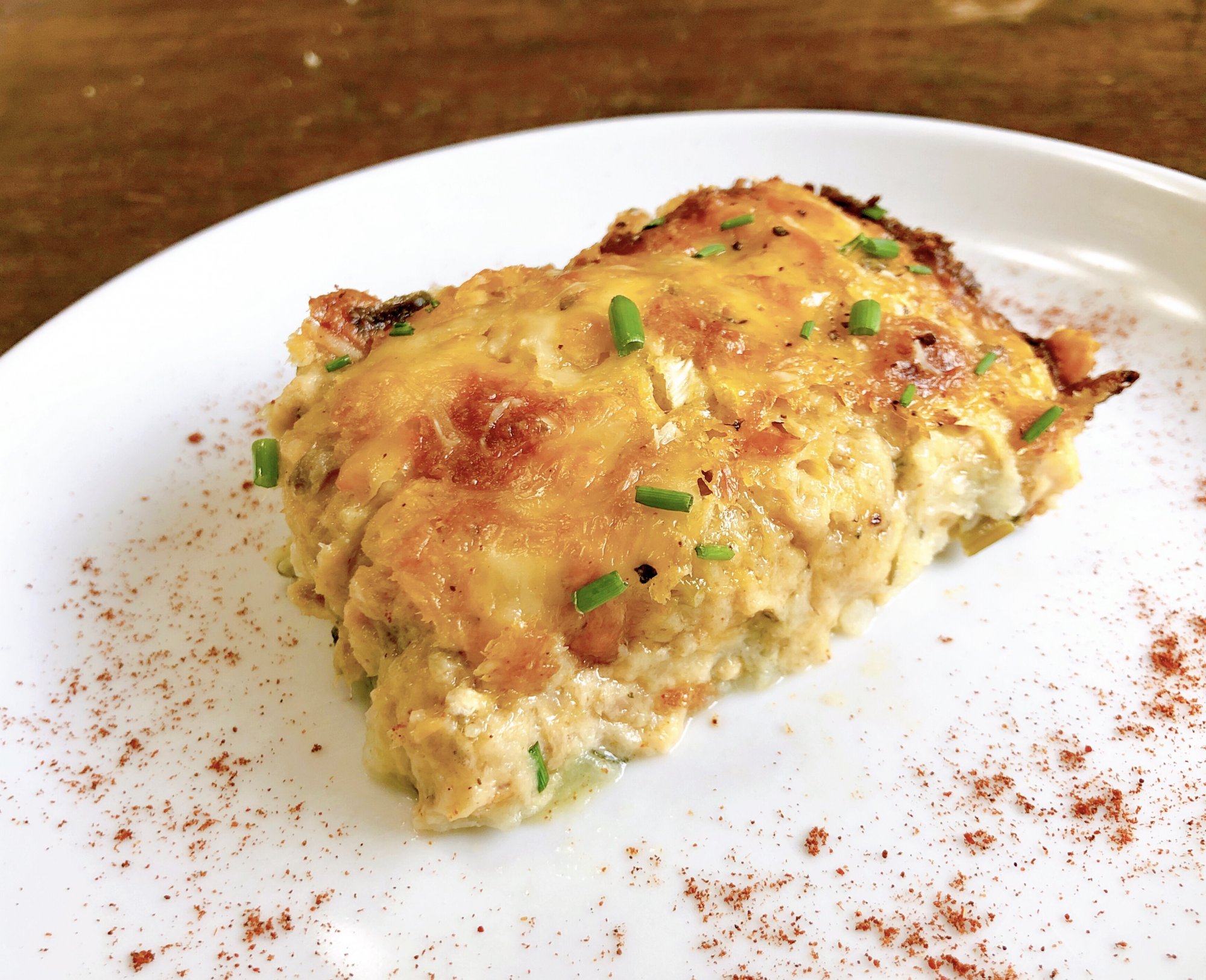 "Au Gratin" is French for "sprinkled with bread crumbs or grated cheese and browned, a perfect concept for a good keto recipe (minus the bread crumbs)! So I took one of the best fatty fishes, salmon, and all my favourite low-carb veggies and turned it into a gluten-free, keto-friendly gratin recipe that's great for everyday dinners and fantastic when heated up as leftovers.
Ingredients:
2½ cups cauliflower rice
1½ cups zucchini, diced
2 cups spinach, chopped
2 cans of wild salmon, skin and bones removed, bones and skin removed
3 tablespoons butter, unsalted
1/4 cup green onion, finely chopped
2 cloves garlic, finely chopped
½ teaspoon smoked paprika
1 teaspoon dried tarragon
1½ teaspoons Dijon mustard
1 tablespoon nutritional yeast
1/4 teaspoon xanthum gum
1 cup heavy cream
¼ cup unsweetened almond milk
1 cup Parmesan cheese, grated , divided
1/2 cup goat cheddar cheese, divided (*Or substitute aged white cheddar)
Sea salt and freshly ground black pepper (to taste)
Fresh dill or chives, chopped (for garnish)
**Directions:*
Grease a 9×13 or equivalent oven proof pan. Toss together cauliflower rice, zucchini, and spinach with a sprinkle of salt and pepper. Transfer to casserole dish.

Heat a large sauce pan to medium-low. Add butter. Once melted, stir in green onion and garlic and smoked paprika and cook until fragrant, around 1 minute. Stir in Dijon mustard, nutritional yeast and xanthum gum until fully incorporated.

Preheat oven to 375F. Turn heat up to medium and gradually add in the heavy cream and almond milk, stirring constantly until it thickens. Stir in half the cheddar, then the salmon, then ¾ cup of the Parmesan. Add salt and pepper to taste.

Gently pour the cream mixture over the veggie mixture smoothing it out with a spatula. Sprinkle over top the remaining Parmesan and cheddar.

Bake at 375 degrees (F) for about 35-40 minutes, or until the top is golden brown. Allow to cool at 12-15 minutes. Top with fresh dill or chives and serve warm.
Did you try this keto salmon and veggies au gratin casserole recipe out? If so, let me know how it went in the comments, or tag me in any photos you share on Instagram so I can see your creation. Enjoy! :)