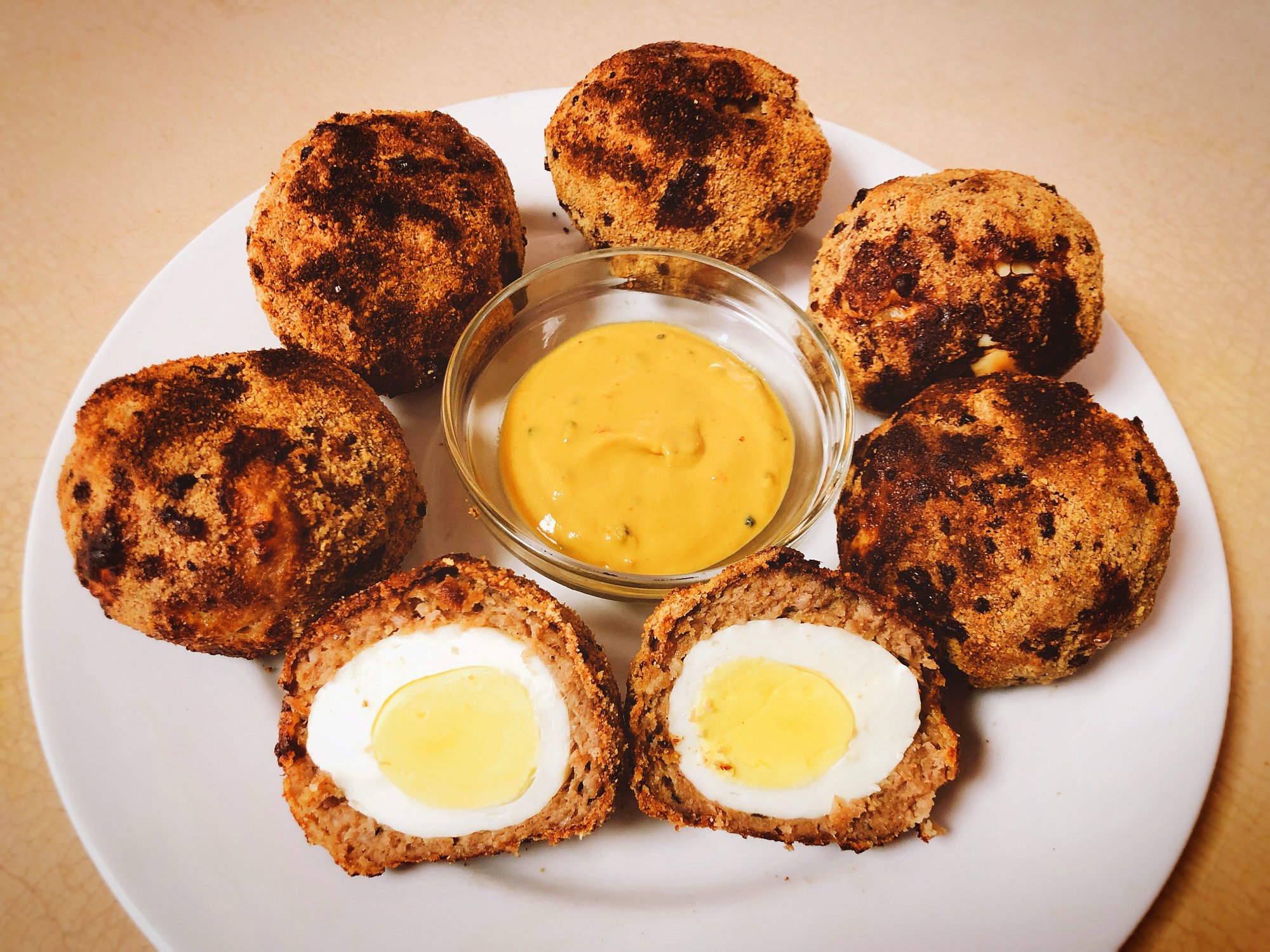 I had never even heard of Scotch eggs until recently, but once I had, I knew I had to come up with my own low-carb, keto-friendly version. Boiled eggs, wrapped in sausage with a crispy coating, dipped in mustard; if done with the right ingredients, it's a perfect keto snack!
Keto Scotch Eggs Recipe
Main Ingredients:
6 large eggs, room temperature
500g mild Italian sausage, farmer's sausage or chorizo sausage
1/4 tsp nutmeg, (freshly grated if possible)
1 tablespoon fresh parsley, finely chopped (or 1/4 tsp dried thyme](https://amzn.to/2UHFqVV) )
1 tsp ground mustard
1/4 tsp Himalayan pink sea salt
Coating Ingredients:
Prepartion:
Add enough water to boil eggs to a medium pot. Bring water to a rolling boil. Prick the eggs then add them to the water for 4.5 to 7 minutes. If you want your eggs to be on the softer side at the end, boil for closer to 4.5 minutes. If you prefer hard (but not grey) yolks, leave them to boil for 7 minutes. Remove from water and place them in an ice water bath to cool.

In a medium bowl combine the sausage meat, salt, pepper, nutmeg, and parsley. Thoroughly combine the ingredients.

If using the baking method, preheat your oven to 400F at this time. Wet your hands and form the sausage meat into 6 equal-sized ball. They should weigh around 79-80g each or so. Make a well into each ball and place the fat end of the egg into the well. Gently press on the meat to cover the entire egg and form a seal. Pat to ensure that the thickness of the meat is even all over the egg. Repeat for the rest of the eggs. Keep moistening your hands with clean water as you work as it will help prevent the meat from sticking to your hands and shape the meat without crushing the egg.

If using the frying method, at this point, start heating your cooking oil to medium heat in a heavy pan or skillet, ½ inch deep. Into the first of three separate bowls, add the coconut flour. In the second bowl, beat together egg and almond milk. Into the third bowl whisk together the almond flour, psyllium flour and parmesan cheese.

Doing one egg at a time, first roll the egg in bowl 1, completely covering the meat with coconut flour. Then place into the beaten eggs in bowl 2 and roll to coat completely. Then place into bowl 3 and coat well with the crumb mixture. Repeat until all six eggs are done.
Cooking Directions: Method 1
Frying in oil isn't as healthy, but it sure does give the eggs a nice, crispy texture. Once the eggs are all wrapped and dipped, gently lower them into the hot oil with a spoon one by one, rolling them into the oil to prevent splashing.

Turn them every 1.5-2 minutes or so until golden brown all the way around and then -take them out, draining them on a paper towel lined plate. Allow to cool slightly before serving. Serve with an English, Dijon or grainy mustard.
Cooking Directions: Method 2
If you prefer to cut back on the oil content, and make the eggs a bit lighter, this baking method is the way to go.

Place scotch eggs on a baking sheet with a silicon mat and bake in oven preheated to 400F for 25-30 minutes, flipping the eggs halfway through. Remove from oven and place on a plate to cool. Serve with an English, Dijon or grainy mustard.
Did you try making your own keto Scotch eggs? If so, what sausage and mustards did you go with? Please share how it went in the comments. Or if you post pics on Instagram, please tag me so I can see your creations! :)