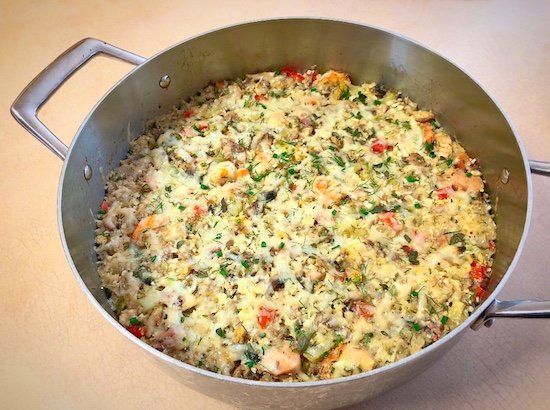 I had cauliflower rice and a bunch of mixed seafood, but not a lot of time, so I figured a new seafood cauliflower rice casserole was in order. With a mix of shellfish and mackerel, as well as a variety of veggies, you get greater diversity in terms of nutrition all cooked up in one pan with manchego and pecorino romano cheese to bring it together in delicious fashion. Not super fancy, but a convenient, nutritious week night meal for someone who doesn't want to make more than one dish.
Seafood Cauliflower Rice Casserole Recipe
Ingredients:
2 tablespoon unsalted butter
2 cloves garlic, minced
½ teaspoon dried oregano
150g shrimp, peeled and deveined
150g cooked frozen clams, thawed
75g frozen squid rings, thawed
Two 115g cans mackerel, bones removed and chopped
½ cup white mushrooms, diced
½ cup red pepper, diced
¼ cup celery, diced
2 cups Swiss chard, chopped
⅓ cup unsweetened coconut milk beverage (*Or other unsweetened non-dairy milk.)
3 cups cauliflower rice, uncooked
2 tablespoons pecorino romano, finely grated
1 teaspoon Dijon mustard
1 tablespoon nutritional yeast
¼ teaspoon glucomannan (*May sub xanthum gum, but glucomannan is healthier.)
Fine sea salt and freshly ground black pepper (to taste)
1 tablespoon fresh dill (plus more for garnish)
1 teaspoon fresh chives, finely chopped (plus more for garnish)
¾ cup manchego cheese, grated
Directions:
Add butter to a large, oven-friendly skillet and heat to medium heat. Add garlic and oregano, and sauté until fragrant. Add mixed veggies and cook until softened. Add shrimp and squid rings and cook until colour just starts to change (and no longer as it will continue to cook in the oven).

Preheat oven to 425F. Add in broth and non-dairy milk and bring to a boil. Stir in nutritional yeast, Dijon mustard and pecorino Romano cheese. Stir until melted then add cauliflower rice, clams, and mackerel. Season with salt and pepper to taste and allow to cook for 1-2 minutes or until sauce thickens slightly. Sprinkle in glucomannan then stir in well. Remove from heat. Taste again and add more salt and pepper if necessary.

Sprinkle with grated manchego. Bake in a pre-heated oven for 25-30 minutes, or until the cheese bubbly and golden. Sprinkle fresh dill. Serve immediately.
Did you make this keto seafood cauliflower rice casserole recipe? If so, please let me know how it turned out in the comments. Or if you share pics of your creations on Instagram, please tag me so I can see them. Enjoy! :)