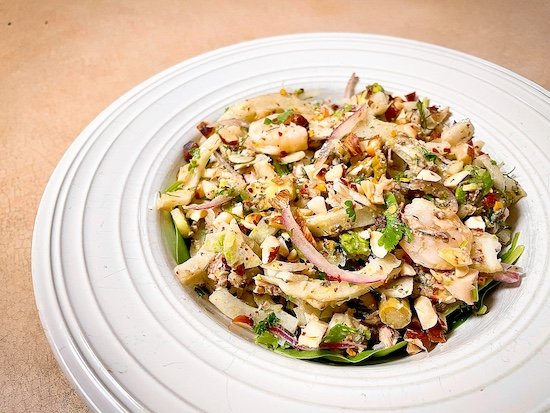 I had some fennel I had to use up and thought that maybe it might make a nice base for a salad. I decided to try doing it as a mixed seafood salad with wonderful results. The combination of zesty lemon, fresh herbs, briny pickled asparagus and capers, as well as sour sumac seemed to go beautifully with the mixture of seafood I used. I even threw in some avocado and roast hazelnuts for a little added healthy fats.
Keto Seafood, Fennel and Citrus Salad Recipe
Ingredients:
¼ cup lemon juice, freshly squeezed
2 teaspoons lemon zest
2 cloves garlic, crushed
½ teaspoon Kosher sea salt
¼ teaspoon crushed red pepper flakes
2 teaspoons capers, drained
2 tablespoons fresh dill, chopped
2 tablespoons fresh parsley, chopped
¼ cup extra virgin olive oil
1 small fennel bulb, thinly sliced cross-wise (around 3 cups sliced)
¼ cup red onion, very thinly sliced
6 pickled asparagus spears, chopped
6-8 Pacific white shrimp, cooked and peeled
One 5-oz can sardines fillets packed in water, drained, spines removed and roughly chopped
1 avocado, sliced
1 tablespoon ground sumac
2 tablespoon cilantro, chopped
2 tablespoons hazelnuts, roasted and chopped
Directions:
In a medium bowl, mix the fennel, red onion and asparagus with the lemon zest and juice, garlic, dill, parsley, chile flakes, olive oil, and kosher salt.

Add the seafood to the salad bowl and toss together. You can serve the salad immediately or leave it in the fridge for up to 1 day. When ready to serve, stir in the sumac, avocado and cilantro, then taste and adjust the seasoning. Top with roast hazelnuts and serve.
Did you make this keto seafood, fennel and citrus salad recipe? If so, please let me know how it turned out in the comments. Or if you share pics of your creations on Instagram, please tag me so I can see them. Enjoy! :)