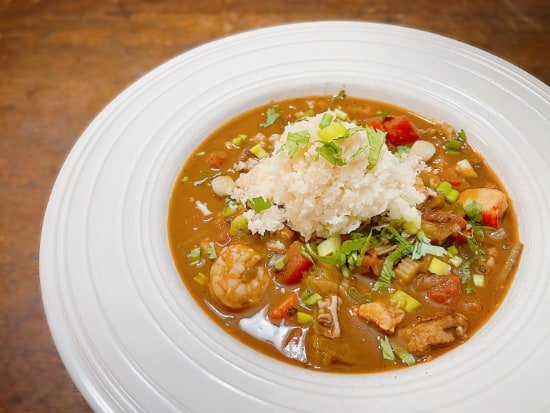 I had some okra in my freezer I wanted to use, and the only dish I know of that uses it traditionally is gumbo. As such, I used it as an excuse to try making my own keto-friendly seafood gumbo recipe. It was a little more involved, but totally worth the effort! Tomatoes aren't always included in the more traditional gumbo recipes, but I liked included them myself. The result was a deep, thick, flavourful stew that complements the seafood and sausage featured in it.
Keto Seafood Gumbo Recipe
½ lb uncooked andouille sausage, sliced
⅓ cup bacon drippings, ghee or avocado oil (*Must be a high heat oil.)
⅓ cup oat fibre
½ teaspoon kosher sea salt
¾ cup yellow onion, diced
½ cup celery, diced
½ cup green bell pepper, diced
½ cup red bell pepper, diced
2 cloves garlic, minced
2 cups fish or pork bone broth
¾ teaspoon Cajun seasoning (or to taste)
¼ teaspoon cayenne pepper (or to taste)
½ teaspoon dried thyme
1 tablespoon bacon drippings, ghee or avocado oil
One 10 oz package frozen cut okra, thawed
1 tablespoon red wine vinegar
½ lb uncooked medium shrimp, peeled and deveined
6 oz lump crabmeat (or more shrimp if preferred)
¼ lb basa fillets, chopped (or more shrimp if preferred)
1 tablespoons Worcestershire sauce
2 tablespoons cilantro, chopped (for garnish)
1 green onion, chopped (for garnish)
Directions:
Heat a dutch oven or large heavy sauce pan to medium. Add sausage to pan and cook until browned, reserving the drippings. Remove cooked sausage and add ghee, bacon drippings or avocado oil to the pan.

Whisk in oat fibre and salt to cook the roux. Whisk constantly, until it darkens to just past a deep peanut butter colour, around 15-22 minutes. Do not let the roux burn! If it does, throw it out, clean the pot and start over from scratch. Remove from heat; continue whisking until mixture stops frothing.

Stir in the onions, celery and peppers and continue to cook, stirring as needed so they don't stick, until the veggies soften, around 8-10 minutes. Add the garlic, andouille sausage, and bay leaves and sauté until garlic is fragrant, around 1-2 minutes.

Stir in the thyme, cajun seasoning, cayenne. Now add the bone broth diced tomatoes. Bring to a high simmer before lowering the heat to medium-low, covering and simmering for 15-20 minutes.

Simmer the soup over low heat for 1 hour; mix in 2 teaspoons of file gumbo powder at the 45-minute mark.

Meanwhile, melt 2 tablespoons of bacon drippings in a skillet, and cook the okra with vinegar over medium heat for 15 minutes; remove okra with slotted spoon, and stir into the simmering gumbo. Stir in Worcestershire sauce and simmer until flavors have blended, around 40-45 minutes.

Stir in crabmeat, shrimp and basa and cook until shrimp and basa are cooked through. Add a scoop of cauliflower rice (*or sub with cooked rice or quinoa if you're having a carb day) in the centre and top with fresh cilantro leaves and green onions.
Did you make this keto seafood gumbo recipe? If so, please let me know how it turned out in the comments. Or if you share pics of your creations on Instagram, please tag me so I can see them. Enjoy!