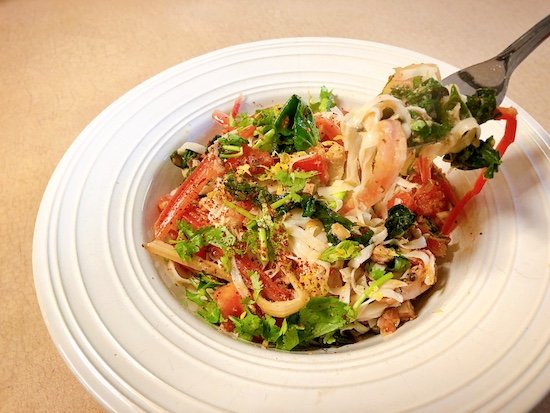 I whipped this low-carb shirataki noodles with sardines and Swiss chard up as a quick, weekday night meal when I didn't have a lot of time for prep work. I always try to keep canned sardines around the house, as well as shirataki noodles in my fridge. Both are versatile components that are ready to use as needed. Combine that with the Swiss chard that I have in my garden and BAM... easy, healthy weeknight meal for when I really busy, or really lazy.
Keto Shirataki Noodles with Sardines and Swiss Chard
Ingredients:
One 8oz package shirataki noodles
1 bunch Swiss chard, stems separated and leaves chopped
2 tablespoons avocado oil
4 cloves garlic, minced
2 cans 5-oz can sardines fillets packed in water, drained, spines removed and roughly chopped
1 tablespoon capers, drained
1 cup grape tomatoes, chopped
¼ teaspoon freshly ground black pepper
⅛ teaspoon fine sea salt
¾ teaspoon crushed red pepper flakes, plus more for garnish
1 tablespoon fresh parsley, chopped
1 teaspoon lemon zest
Directions:
Prepare shirataki noodles according to package directions and chard stems as noodles. Follow these directions to make chard stem noodles.

Add garlic and sauté until fragrant. Add Swiss chard and sauté until the leaves are soft. Add sardines, capers, tomatoes, salt, pepper, and chili flakes. Mix in the pan.

Add the shirataki and chard noodles to the pan with other ingredients plus 1 teaspoon olive oil. Mix well. Garnish with lemon zest, fresh parsley, and chili flakes if desired.
Did you make this keto shirataki noodles with sardines and Swiss chard recipe? If so, please let me know how it turned out in the comments. Or if you share pics of your creations on Instagram, please tag me so I can see them. Enjoy! :)