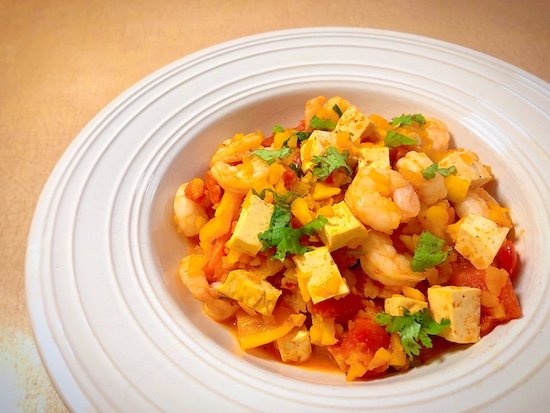 I decided to try my hand at making a dish with a different kind of rice, so that I'm not always using cauliflower all the time, so I came up with this shrimp and peppers with butternut squash rice recipe. Because butternut squash brings a sweeter overall flavour to the dish, I decided to run with it and use coconut oil and milk to complement it, flavours which go nicely with the smoked paprika and chili powder that bring a little kick to the dish.
Keto Shrimp and Peppers with Butternut Squash Recipe
Ingredients:
300g raw shrimp cleaned, tail removed & deveined
175g tofu, diced (*Or replace with more shrimp.)
3 cups butternut squash, diced
1 red or yellow bell pepper, diced
1/2 cup yellow onion or shallot, finely chopped
3 cloves garlic, minced
Sea salt and pepper, to taste
3 tablespoons coconut oil
1/2 cup full-fat coconut milk
1/4 tsp crushed red pepper flakes
1/2 tsp mild chili powder
1/2 tsp nutritional yeast
2 cups fresh spinach, chopped
3 tbsp fresh cilantro or parsley, finely chopped
Directions:
Place butternut squash cubes in a blender or food processor and pulse until it becomes a rice-like consistency, taking care not to over process.

Heat coconut oil in a large skillet over medium heat and add onion and red pepper flakes. Sprinkle with a little salt. Cook 2-3 minutes

Add bell pepper, garlic, chili powder and paprika. Cook 5 more minutes.

Add tomatoes, butternut squash rice, salt, and pepper, and stir to combine the juices with all ingredients. After 5 minutes, add coconut milk and heat through.

Add shrimp, tofu and spinach and cook until the shrimp another 5 minutes until the shrimp turns translucent, stirring occasionally to flip them.

Once the shrimp has is cooked and butternut squash has reached a soft, rice consistency remove from heat. Garnish with cilantro or parsley and enjoy!
Did you make this keto shrimp and peppers with butternut squash rice recipe? If so, please let me know how it turned out in the comments. Or if you share pics of your creations on Instagram, please tag me so I can see them. Enjoy! :)