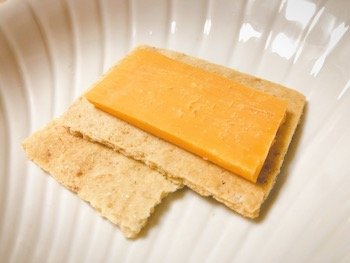 Don't get me wrong. I do like low-carb flax crackers. That being said, they tend to be more brittle and break apart when used with thick dips and spreads. I wanted a similarly easy keto cracker recipe that would hold up to that stress and load. This recipe combining almond flour and flax meal checks all those boxes, making them a great choice for your next wine and cheese or appy night!
Simple Crispy Keto Cracker Recipe
Ingredients:
Directions:
Preheat oven to 350°. Add almond flour, water, flax meal, and Himalayan sea salt into a medium-sized bowl and stir together until the mixture turns into dough.

Place the dough on a piece of parchment paper. Cover it with a second piece of parchment (or silicon mats). Pat it out with your hands and then use a rolling pin to roll out the dough. You'll want the dough to get pretty thin — about an 1/8 of inch thick. Try to keep form the dough into a rectangular shape. It's okay if it's not perfect.

Move parchment paper to a baking sheet and bake the crackers for 10 minutes. Remove from oven and take off the top piece of parchment paper (or silicon mat). Spray the dough with coconut oil cooking spray then sprinkle flaky sea salt over the top of the dough, if using.

Using a pizza or pasta cutter, cut into squares and rearrange the crackers so the ones on the outside are on the inside. Put back in the oven for another 10-15 minutes or until the tops are golden brown. Remove from oven.

Allow the crackers to cool completely, either on the baking sheet or on a cooling rack. Enjoy immediately after cooling. Place any leftover crackers in an airtight bag for up to 10 days.
What's your favourite keto cracker recipe? How do you like this one? Please share your thoughts in the comments. Or if you share pics on Instagram, tag me so I can see them. :)