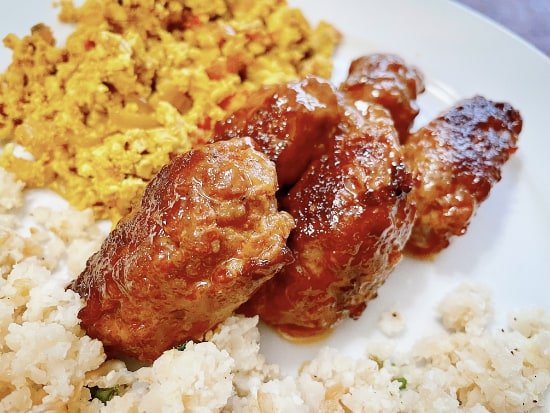 Since I went keto, I've done Filipino breakfasts a number of time with my friends and family, simply replacing the rice with cauliflower rice. But recently I looked at the ingredients for the store-bought longanisa sausages and discovered there was a crazy amount of sugar in them. And this wasn't just in the 'sweet' ones. There was just as much sugar in the 'hot' ones. I decided to set about making my own homemade longanisa sausages so I could swap out the sugar for sweetener, and a little more garlic to pay homage to my Ilocano roots. I made them "skinless" to make the process easier, but you could easily skin them if you prefer.
Keto Skinless Longanisa Filipino Breakfast Sausages Recipe (Hot and Sweet)
Ingredients:
Shaping Directions:
In a large mixing bowl, combine ground pork along with all of the ingredients. Mix well. Cover the bowl. Refrigerate for 2 hours.

Cut around twenty-four 4" squares of wax paper. Scoop 2 tablespoons of mixture onto a piece of wax paper. Roll into a 2" long sausage then fold the ends down before finishing rolling the sausage into the paper. Put into a freezer-safe container. Continue to roll until you've rolled all 24 sausages. Seal the container and put it in the fridge for at least 4 hours (or overnight) to allow them to set.
Cooking Directions:
Add 1 tablespoon avocado oil to a large skillet and heat to medium then add half the longganisa (Doing it in 2 batches prevents from crowding the pan). Pan fry the sausages, turning them frequently as you do for even cooking. Cook, turning them for even cooking, until lightly browned with the outside no longer sticky.

Add ⅓ cup water to the pan then drizzle another tablespoon of avocado oil over the sausages. Bring to a boil and simmer until the water has evaporated then cook just a little longer to brown the outside of the sausages. Serve with steamed cauliflower rice, or for a complete Filipino breakfast, have it with garlic fried cauliflower rice, and Filipino scrambled eggs (or try my tofu imitation Filipino scrambled eggs recipe).
Did you make this keto skinless longanisa Filipino breakfast sausages recipe? If so, please let me know how it turned out in the comments. Or if you share pics of your creations on Instagram, please tag me so I can see them. Enjoy! :)