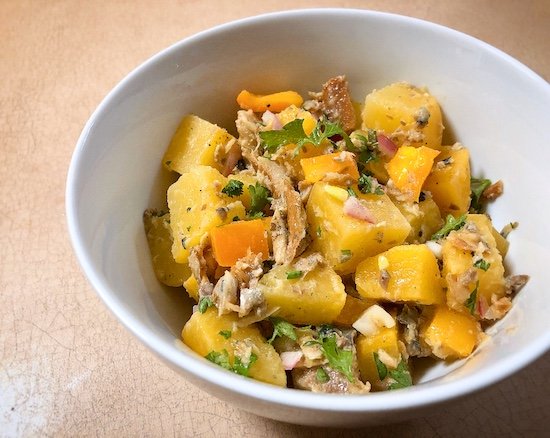 If you're a little unsure about how to eat herring, give this keto smoked herring rutabaga salad a try for a delicious introduction. This recipe is my take on a classic French smoked herring potato salad. The standard recipe usually doesn't include bell peppers, but I included it to swap out some of the rutabaga. While rutabaga is lower in carbs than potatoes, it is still a little starchy, and has more carbs than other options. Cutting it back and replacing it with bell pepper helps reduce the overall carb content while adding colour. I also bumped up the olive oil to increase the healthy fat content, but you also get lots of omega-3 fats from the herring, along with a good amount of protein, making this a well-rounded, filling salad.
Keto Smoked Herring Rutabaga Salad Recipe
Ingredients:
Directions:
Combine the chopped onion with the fine sea salt, mustard and vinegar. Coat the onion with this mixture to help break down the raw onion taste. Let this sit while you cook your potatoes.

Cook the rutabaga in boiling water along with the potato (not to be eaten but to reduce the bitterness of the rutabaga), around 12 minutes or until they're quite tender. Drain them and allow them to sit until they're safe to handle.

Whisk the olive oil in with onion mixture. Add the rutabaga and toss to coat. Add the fish and parsley and gently stir to combine. Season with flaky sea salt and freshly ground black pepper to taste. Serve immediately as a warm potato salad. You can alternatively store this in the fridge for a couple of days and serve cold on a bed of chopped lettuce.
Did you make this keto smoked herring and rutabaga salad recipe? If so, please let me know how it goes in the comments. Or if you share pics of your creations on Instagram, please tag me so I can see them. Enjoy! :)