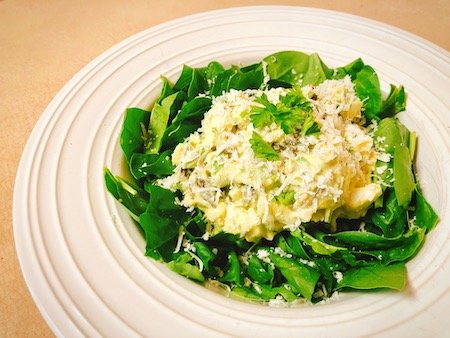 I had a can of smoked oysters kicking around and was tired of just eating them straight from the can. I wanted to work them into a easy-prep meal, and so this keto smoked oyster, avocado and egg salad. The smokiness of the oyster adds a refreshingly different flavour making it quite unique from any other seafood-based salad I've had in the past. It will definitely have a place in my regular rotation.
Keto Smoked Oyster, Avocado and Egg Salad Recipe
Ingredients:
1 can smoked oysters, drained and chopped
2 large eggs, boiled and chopped
1 small avocado, diced
4 teaspoons mayonnaise
2 teaspoons lemon juice, freshly squeezed
1 teaspoon Dijon mustard
3 cups spinach leaves, chopped
4 teaspoons Pecorino Parmesan cheese, freshly grated
2 teaspoons fresh chives, finely chopped
Directions:
In a small bowl, combine and stir together all the ingredients except the spinach, Parmesan and chives.

Place the spinach in a large bowl or deep dish. Spoon out the creamy oyster mix into the centre of the spinach. Sprinkle the Parmesan then the chives overtop all and serve.
Did you give this keto smoked oyster, avocado and egg salad? How did you like it? Please share your thoughts in the comments. And if you post any pics on Instagram, please tag me so I can see them. Enjoy! :)