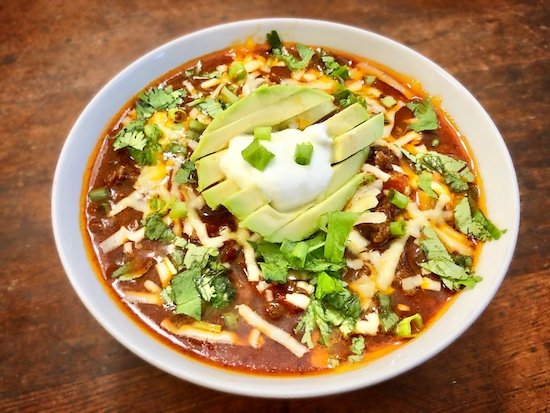 Beef chilli con carne can be done so many ways, so I decided to change things up and go with a slightly different flavour profile aiming to use smoky flavours to give this version of it a memorable twist, using chipotle peppers, liquid smoke, smoked paprika and a smoky whiskey.
Keto Smoky Beef Chili Con Carne
Ingredients:
¾ teaspoon baking soda
1½ teaspoons kosher sea salt
2 tablespoons water
1½ lb lean ground beef
2 tablespoons avocado oil
½ teaspoon kosher sea salt
1 cup yellow onions, chopped
6 cloves garlic, minced
2 tablespoons mild chili powder
1 tablespoon unsweetened red or dark cocoa powder
½ teaspoon espresso powder, Turkish coffee powder (*my favourite), or instant coffee
½ teaspoon ground cinnamon
1 teaspoon ground cumin
1½ teaspoons dried oregano
1 teaspoon dried basil
1 teaspoon smoked paprika
1 teaspoon freshly ground black pepper
1 cup celery, diced
2 medium bell peppers, chopped
1 cup mushrooms, sliced
1-2 chipotle peppers in adobo sauce, finely chopped, chopped (to taste)
1 tablespoon gold erithrytol monk fruit sweetener or [Swerve Brown](https://amzn.to/2L2qIGF]
One 28oz can of diced tomatoes, diced, undrained
One 14 oz. can of black soy beans, drained and rinsed, drained and rinsed
1¼ cups beef or pork bone broth
2 tablespoons smoky whiskey
1 tablespoon mesquite-flavoured liquid smoke
1½ tablespoons Worcestershire sauce
salt and pepper (to taste)
2 tablespoons raw cider vinegar
Optional Toppings:
Grated smoked cheddar, Monterey Jack or manchego cheese
Diced avocado
Sliced green onions
Chopped fresh cilantro
Directions:
Whisk together baking soda, kosher sea salt and water in a large mixing bowl. Add the beef and work the mixture into it. Allow to rest for 20 minutes while you get started on the other ingredients.

Heat avocado oil in a large frying pan or saucepan (*If using Instant Pot, use the saute setting. Add onions and garlic and sprinkle with fine sea salt. Cook until onion is translucent. Stir in chili powder, cocoa powder, espresso powder, cinnamon, oregano, basil, smoked paprika, cumin, and black pepper and cook another minute or until fragrant. Stir in meat and cook until browned. Deglaze the pan with ½ cup of the bone broth, scraping up any bits from the bottom.

If using a slow cooker, add everything in the pot, along with Swerve Brown, tomatoes, black soy beans, tomato paste, green pepper, jalapeño pepper, mushrooms, liquid smoke, bourbon, and Worcestershire sauce to the slow cooker now and cook on low for 6-8 hours. If using Instant Pot, set to high pressure for 18 minutes then allow pressure to release naturally (around 10-15 minutes). Stir in raw cider vinegar and serve hot topped with your choice of toppings.
Did you make this keto smoky beef chili con carne recipe? If so, please let me know how it turned out in the comments. Or if you share pics of your creations on Instagram, please tag me so I can see them. Enjoy! :)