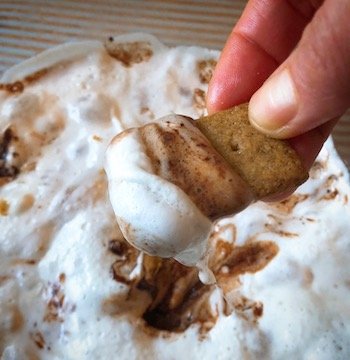 Why should s'mores be limited to camping? But instead of making the delicious, melty sandwich mess that you've come to accept when camping outdoors, why not make it into an easy, shareable hot dip that's easily to nosh on at your next movie date night (it IS Valentine's Day after all...) or game night?
Keto S'mores Dip Recipe
Ingredients:
Directions:
Preheat broiler on high and place a rack in the upper half of your oven (at least 5 inches from the broiler). In a large microwave-safe bowl, combine chocolate and coconut oil. Heat in 20-second intervals for a total of one minute, stirring well between each interval. If the chocolate is not melted, heat in 10-second intervals, stirring really well, until melted and smooth. Once melted, stir in erithrytol and liquid stevia.

Meanwhile, heat heavy cream in a small saucepan on medium-low. Heat only to just before boiling. Watch it carefully it will only take a minute or two. Slowly whisk hot cream into melted chocolate until fully incorporated.

Pour the melted chocolate into an oven safe skillet or casserole dish (I used an 8.25-inch dish). Top the melted chocolate with halved marshmallows and place under the broiler. Broil until the marshmallows are toasted and golden brown. This will happen fast, so keep a close eye on it. Serve immediately with keto graham crackers, keto peanut butter cookies and/or fresh strawberries.
Did you try making this keto s'mores dip? If so, how did it go? And what sorts of treats did you dip in it? Please share in the comments. If you share any pics on Instagram, be sure to tag me so I can appreciate your creation. :)