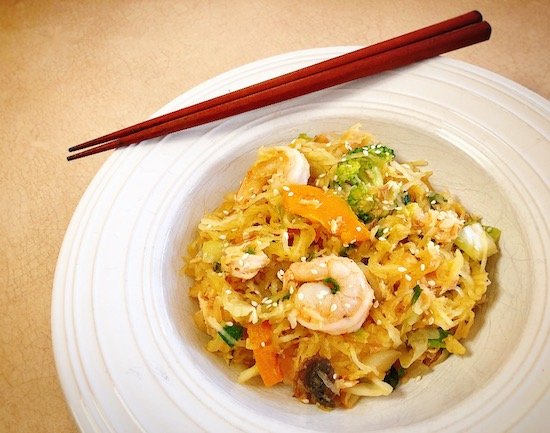 Since spaghetti squash worked so well for my yakisoba recipe, I figured it would work just as well for a keto chow mein. Different sauce, same idea, and just as easy and tasty.
Keto Spaghetti Squash Chow Mein Recipe
Sauce Ingredients:
Stir-Fry Ingredients:
1 tablespoon avocado oil, divided
1 teaspoon ginger peeled and grated
⅛ teaspoon white pepper
2 cloves garlic, minced
¼ cup yellow onion, sliced
1 stalk celery, chopped
¼ cup orange bell pepper, thinly sliced
2 cups shredded napa, green or white cabbage
½ cup mushrooms, sliced
½ cup broccoli florets
One 2½ to 3lb spaghetti squash (about 3½-4 cups) cooked and seeds and skin removed
Sesame seeds, toasted and/or sliced green onions for garnish
Optional: 300g cooked sliced chicken, cooked sliced pork, shrimp, or tofu/tempeh
Directions:
Preheat the oven to 400F. Cut the spaghetti squash in half lengthwise and scoop out the seeds and stringy middle bit. Rub avocado oil over the inside of each of the squash halves and then place them on a baking tray. Sprinkle with salt and pepper. Bake in the oven for approximately 30 minutes until the center of the squash is tender. Remove the squash from the oven and using a fork, scrape out of the inside of the squash horizontally to get noodle strands.

Combine all the sauce ingredients in a small bowl. Set aside.

Heat avocado oil in a large frying pan over medium high heat. Add onion and sauté until softened, around 3-4 minutes. Add garlic and ginger and sauté until fragrant. Add bell pepper and cabbage and continue to cook for 4-5 minutes unit the bell pepper is tender and the cabbage has wilted, adding mushrooms halfway through (if using raw shrimp add it in at the same time as mushrooms.)

Add the spaghetti squash and add cooked protein of choice (or tofu/tempeh) to the skillet with the sautéed vegetables. Pour sauce over all and stir until well combined. Garnish with a sprinkle of sesame seeds and/or green onions and serve.
Did you make this keto spaghetti squash chow mein recipe? If so, please let me know how it turned out in the comments. Or if you share pics of your creations on Instagram, please tag me so I can see them. Enjoy!