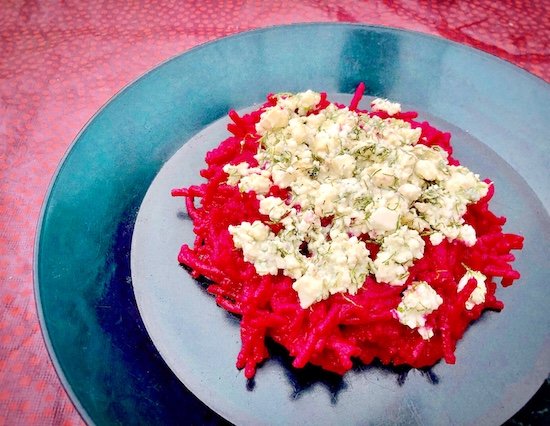 Looking for an appealing way to get more beets in your diet on a carb-up day? This colourful dish is easy to make, and stunningly beautiful, allowing you to serve up a pulse-based spaghetti, whether you use red lentil or chick pea noodles. And don't skip out on the topping as it adds contrast to the colour and flavour of the dish!
Carb-Up Vegan Spaghetti with Blender Beetroot Sauce and Feta Dill Topping
Ingredients:
1lb beetroot, scrubbed clean with greens removed
¼ cup olive oil
¾ tsp fine sea salt
3 cloves garlic, smashed
½ teaspoon crushed red pepper flakes
1 tablespoon nutritional yeast
1 tablespoon red wine vinegar
⅓ cup feta cheese, crumbled (*Use crumbled extra firm tofu tossed with 1 tablespoon of white vinegar for vegan.)
1½ tablespoons fresh dill, finely chopped
2 teaspoons lemon juice, freshly squeezed
Directions:
Add the cleaned beets to a large pot and cover with approximately 1-2 inches of water. Bring to a rolling boil over high heat. As soon as the water is boiling, cover the pot and reduce to a simmer. Simmer until beets are fork tender. The total time will vary depending on the size of your beets, but it should take anywhere between 30-60 minutes. Immediately transfer beets to a cold water bath. As soon as they are cool, peel the skin and cut into quarters.

Cook the pasta as per the instructions on the packet. While the water is boiling, put the cooked beetroot into a blender and add the olive oil, nutritional yeast, vinegar, salt, garlic and chilli. Blend to a smooth paste.

Add feta, dill and lemon juice to a small bowl and mix to combine.

Once the pasta is cooked to your liking, drain, reserving ½ cup of the water, and put back into the pan. Pour in all that beautiful beetroot sauce and mix through, adding the pasta water little by little to help the sauce absorb into the noodles. Add as much water as you need to get your desired consistency.

Ladel into pasta bowls and top with feta mixture. Serve hot or at room temperature. You can double the sauce if you like, and freeze the other half for a future meal. Frozen sauce will keep up to 6 months.
Did you make this carb-up vegan spaghetti with beetroot sauce and feta dill topping recipe? If so, please let me know how it turned out in the comments. Or if you share pics of your creations on Instagram, please tag me so I can see them. Enjoy! :)