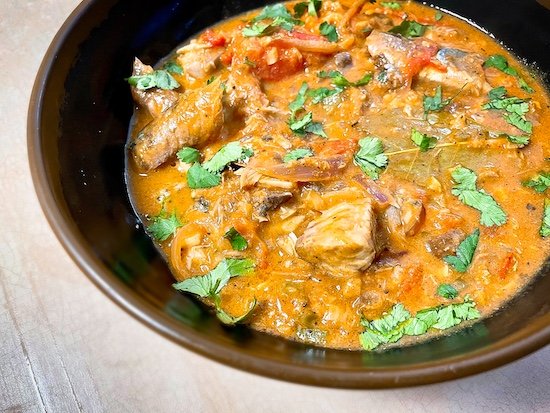 I'm always game to try a different curry recipes, but I was super interested in this one that conveniently uses canned mackerel as the primary ingredient. This makes it a LOT more convenient to whip up on a weekday evening without having a plan ready head of time. The blend of spices is definite unique, with a different tone than curries from its neighbouring India.
Keto Sri Lankan Canned Mackerel Curry Recipe
Ingredients:
3 tablespoons extra virgin coconut oil
½ cup yellow onion, sliced
½ teaspoon kosher salt, divided
4 cloves of garlic, finely chopped
1" piece of ginger, minced
A handful of curry leaves (*Or sub with one bay leaf)
One Pandan leaf (*optional)
1 large tomato, sliced into thin wedges
2 green chiles, sliced
½ teaspoon ground turmeric
½ teaspoon ground coriander
½ teaspoon ground cumin
½ teaspoon freshly ground black pepper
¼-½ chilli powder (to taste)
⅛ teaspoon ground cinnamon
⅛ teaspoon nutmeg, (freshly grated if possible)
One large pinch cardamom powder
One pinch ground cloves
1 one large can of mackerel, drained, bones removed (if preferred)
2 cups baby spinach leaves (*Optional)
Flaky sea salt (like Maldon or Fleur de sel, to taste
Fresh cilantro (for garnish)
Directions:
Heat oil in a large skillet over medium heat. Add onions, green chiles and kosher salt, and sauté until softened, around 3-4 minutes. Add garlic, curry leaves, pandan leaf, and sauté for 1-2 minutes or until fragrant.

Add the tomato and all the spices and sauté until ingredients turn slightly brown and the tomatoes to soften while all the of the ingredients turn to a semi-liquid paste. This will take around 5-7 minutes, increase heat if necessary, but keep it moving to avoid burning the paste.

Reduce heat to low and pour in the coconut milk, leave it simmer for another 5-7 minutes. Season with additional kosher sea salt to taste (if desired).

Once the coconut milk is thick and changes colour slightly, gently add the canned fish chunks into the sauce. Avoid stirring except to warm the fish evenly. Cover with a lid and simmer on low around 10-12 minutes, or until the gravy has thickened to your liking. Season with salt and serve warm with cauliflower rice.
Did you make this keto Sri Lankan Canned mackerel curry recipe? If so, how did it go? Please share your thoughts in the comments. Or if you share pics of your creations on Instagram, please tag me so I can see them. Enjoy! :)