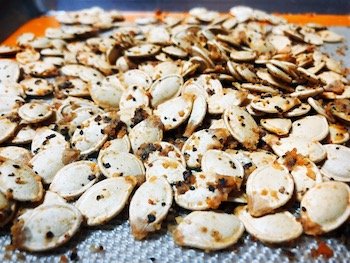 Almost everyone knows how to roast pumpkin seeds at this point, so it's really all about how to season them. I really only roast pumpkin seeds once a year but when I do, this is my recipe of choice. It's a savoury blend that I used to put on popcorn but also works perfectly with the crispy texture of roast pumpkin seeds.
Keto Steak & Cheese Roast Pumpkin Seeds Recipe
Ingredients:
Directions:
Scoop the seeds from your pumpkin and remove the stringy parts. Place seeds in a colander or fine mesh strainer and rinse thoroughly to remove any of the leftover goop from the pumpkin. (Skip this step if using packaged seeds.)

Preheat oven to 325 F (162 C) and line a baking sheet with parchment paper or a silicon mat.

Arrange pumpkin seeds on a towel or paper towel and dry thoroughly. (This will help the pumpkin seeds crisp up in the oven.)

Arrange pumpkin seeds on the baking sheet and drizzle with oil. Sprinkle on half the steak seasoning, parmesan cheese and nutritional yeast. Toss to coat then sprinkle on the remaining amount,

Bake for 10 minutes then take them out and give them a toss. Put them back in the oven for another 10 - 20 minutes, or until crisp and light golden brown (will depend on how big your seeds are).

Allow to cool completely before transferring to a sealed container. Will keep at room temperature for 1 week or more or in the freezer up to 1 month.
What's your favourite way to season roast pumpkin seeds? Please share in the comments or tag me in your own creations on Instagram so I can see them. :)