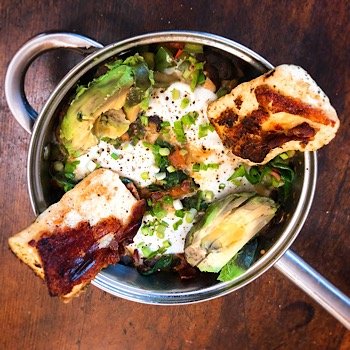 I often keep frozen mussel or clam meat in my freezer. If I'm looking for an easy, healthy weekday night meal, this low-carb stewed mussels and cabbage in spicy tomato sauce recipe comes in handy, giving me a good dose cruciferous veggies along with mussels, which are high in omega-3 fats and zinc. Sure, it's not the same as steamed fresh mussels in their shells, but it's simple, nutritious, and budget-friendly.
Keto Stewed Mussels and Cabbage in a Spicy Tomato Sauce Recipe
Ingredients:
Directions:
Heat avocado oil in a large Dutch oven or skillet to medium-high heat. Add the sliced garlic, and cook until the garlic starts to sizzle then stir in oregano, basil and chili flakes and sauté until the garlic is just golden around the edges. This step should take around 1-2 minutes.

Add the tomatoes, slosh out the can with ¼ cup water, and add that to the pot. Season with salt. Bring to a boil, and simmer until slightly thickened, around 13 minutes.

Once the sauce has thickened, add the mussels, stir, and adjust the heat so the sauce is simmering. Cover, and simmer until the mussels are cooked through, around 3-4 minutes.

Stir in the parsley or cilantro and drizzle with olive oil. Garnish with basil and/or oregano leaves and extra chili flakes and serve immediately.
Did you try this keto stewed mussels and cabbage in a spicy tomato sauce recipe out? If so, let me know how it went in the comments, or tag me in any photos you share on Instagram so I can see your creation.