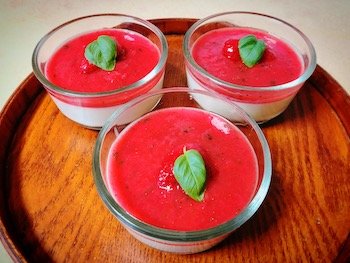 If you're eating keto/low-carb and haven't tried panna cotta, you're missing out! It is an Italian dessert and literally translates to "cooked cream," which pretty much makes it a perfect keto dessert (if you use keto-friendly sweeteners and toppings), and it's super easy to make too! It's similar to the French pots de creme but uses gelatin to help it set instead of egg yolks, making it easier to prepare. This version uses a low-carb coulis of strawberry and basil to give it a fresh, fruity pop.
Keto Strawberry-Basil Panna Cotta Recipe
Panna Cotta Ingredients:
Strawberry-Basil Coulis Ingredients:
Garnish Ingredients: - 2 strawberries, washed and sliced prettily - 4 basil leaves
Directions:
Pour the cream into a pan and add the lime zest, sweeteners and vanilla. Bring the cream to a simmer on a low heat, then remove from heat and allow to cool.

In a small bowl, whisk gelatin powder with ¼ cup of cold water. Let stand for 5 minutes to bloom.

Remove 1/4 cup of the cooled cream mix and place in a separate pan.

Squeeze the juice of 1/2 a lime and add it to the remainder of the cream. The cream should be completely cooled before adding the lime juice or the cream could separate.

Heat up the 1/4 cup of cream put aside from earlier, then remove from the heat. Drain gelatin and add to heated cream. Whisk until fully melted in and let cool for a couple of minutes before adding the mix to the rest of the cream.

Carefully pour the mixture into the four glasses or ramekins, dividing it evenly without allowing any to spill out. Put in the fridge and allow to set for 4-5 hours or overnight.

For the basil and strawberry coulis, cut the strawberries into quarters, then place them in a blender with the basil and sweeteners. Pulse until there are no longer any big chunks. If you prefer a smoother sauce, pour the coulis through a sieve (*I prefer a more textured sauce myself.)

Pour the coulis on the panna cottas and put in the fridge to chill before serving. Garnish each cup with a basil leaf and a sliced strawberry.
Have you ever tried panna cotta before? What did you think of this keto strawberry-basil version of it? Please share your thoughts in the comments. Or if you share pics on Instagram, tag me so I can see your creation. :)
S