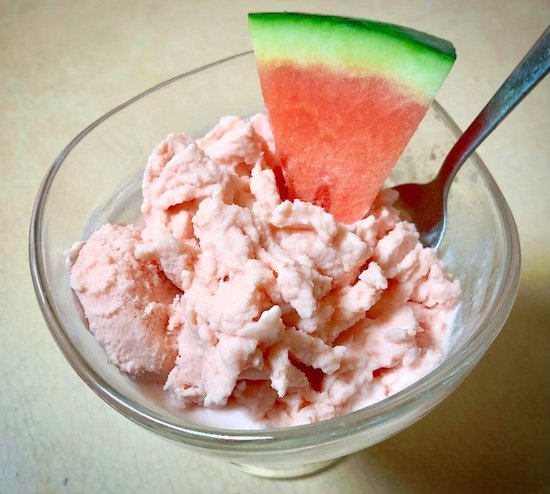 Sometimes I feel like a frozen dessert, but want something a little lighter and fruitier. With this in mind, a half a leftover watermelon, I threw together this low-carb, sugar-free strawberry watermelon coconut sorbet recipe. All you need is a blender and a freezer. No ice cream maker required!
Keto Strawberry Watermelon Coconut Sorbet Recipe
Ingredients:
Ingredients:
Blend all ingredients in a blender and transfer to a brownie or cake pan. If you have a silicon pan, even better.

Place in the freezer for 3 hours or until hardened. Break frozen watermelon mixture into chunks and place back in the blender.
Blend until a creamy consistency is reached.

If you like the consistency of the sorbet at a little softer, you can serve it as this point. If you prefer a firmer consistency, put the sorbet into a container or large bowl and put it back in the freezer to firm up for around 25 minutes and serve.
Did you make this keto strawberry watermelon coconut sorbet recipe? If so, please let me know how it turned out in the comments. Or if you share pics of your creations on Instagram, please tag me so I can see them. Enjoy!