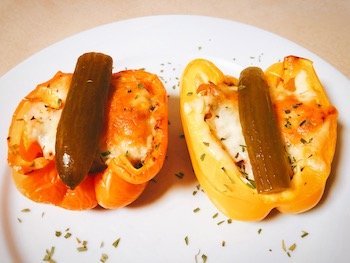 Tuna melts were one of my favourite lunches or afternoon snacks before I adopted the keto lifestyle. They still have a place in my life, however, having taken on a different form. You could theoretically do tuna melts on some sort of keto bread, but I like to get my veggies in and actually prefer them in a bell pepper vessel. If you use those tiny bell peppers you can sometimes get in the grocery store, you can even turn this into an appetizer for a party.
Stuffed Pepper Tuna Melts Recipe
Ingredients:
Directions:
Preheat oven or toaster oven to 350F. Cut peppers in half, clean out seeds and remove the stems. Place on a baking sheet sheet.

Drain canned tuna and add to a small mixing bowl. Add all ingredients except the cheese and mix well.

Spoon the tuna mixture into the pepper halves and top each with 1/4 cup of shredded cheddar cheese.

Bake for 20 mins or until cheese is melted and bubbly. Allow to cool slightly before serving. Garnish with a dill pickle spear or some banana peppers for added flavour and visual effect.
What's your favourite keto version of the tuna melt? I'm always up for trying new things. Please share your ideas in the comments or if you make this recipe and share a pic on Instagram, tag me so I can see your creation. :)