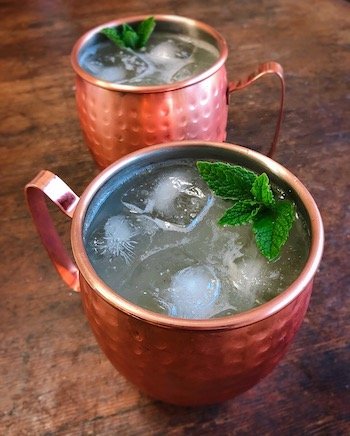 My husband and I are huge fans of ginger beer, and while it is possible to get diet ginger beer in the US (for a price), we have never seen it in Canada. This prompted me to make my own keto-friendly ginger beer recipe for us to enjoy without having to make a cross-birder excursion. Perfect for making keto-friendly Moscow Mules!
Keto Sugarless Ginger Beer Recioe
Ingredients:
Directions:
Wash and cut the ginger root into medium chunks. Place it in a blender together with 2 1/2 cups of water. Blend for 15-20 seconds.

Pour the ginger mixture through a fine mesh sieve (or use cheesecloth) into a sauce pan. Juice 2 lemons and add the fresh lemon juice to the sauce pan. Heat the mixture over a medium heat until it starts to simmer then lower heat to medium-low.

Add erithrytol and stir until dissolved. Cook the mixture until reduced to about a half (around 3 cups). Then, take off the heat and allow to cool.

Once cool, pour 1/4 cup of the ginger beer concentrate in a copper mug (if you have one) and add 1 cup of sparkling water (or more to taste) and ice cubes. Garnish with mint leaves or a lime slice.
Did you give this keto hydrating electrolyte drink recipe a try? Please share your thoughts in the comments. And if you post any pics on Instagram, please tag me so I can see them. Enjoy! :)