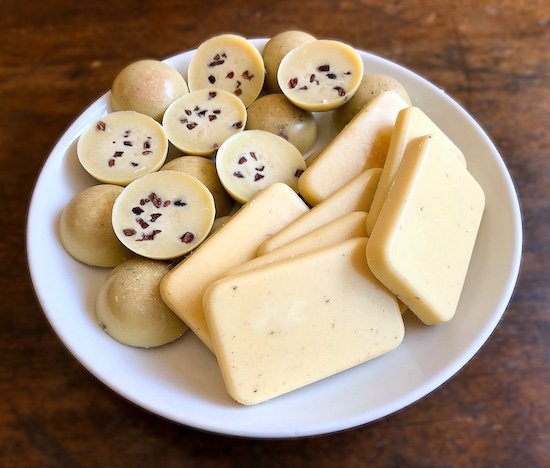 Keto-friendly white chocolate can be either expensive to buy or hard to find, but sometimes you need some for a recipe. That's why I set about making my own, so I have them for use in keto baked goods. The cookies and cream version is a bonus, reminding me of one of my preferred chocolate bars from my youth.
Keto Sugarless White Chocolate Recipe
Ingredients:
Directions:
Melt the cacao butter and coconut oil in a heat-proof bowl in microwave in 20-second increments.

If you have a thermometer it should read roughly 120F. Whisk in erithrytol and salt until combined and smooth. Allow to cool a few minutes. Whisk in the protein ½ tablespoon at a time. Once everything is smooth, add in the heavy cream powder (or coconut cream powder) 1/2 tablespoon at a time, whisking thoroughly for a smooth texture. If you find your mixture is grainy, simply run it in a blender until smooth (this can happen if adding the powdered ingredients too quickly).

Pour into your silicon molds, allow to come to room temperature, after around 15 minutes, and place in the fridge until set. If making the 'cookies and cream' version, sprinkle the cocoa nibs in the molds and pour the white chocolate mixture on top. Store in a sealed bag or container in the fridge or freezer to keep them fresher longer.
Did you try this keto white chocolate/cookies and cream chocolate recipe out? If so, let me know how it went in the comments, or tag me in any photos you share on Instagram so I can see your creation.