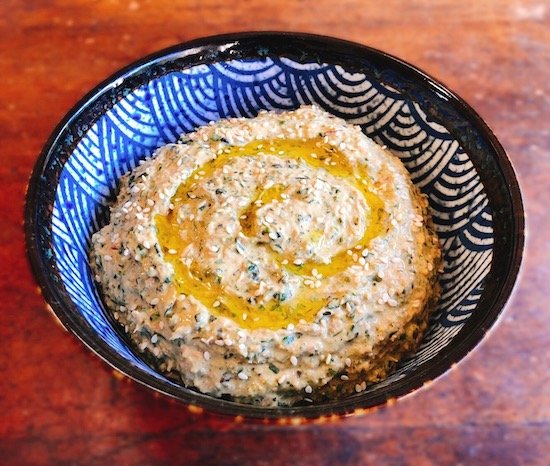 Forget the cauliflower hummus. Never you mind about cashew hummus. This Swiss chard hummus gives you all the flavours you like about hummus, without the carbs, AND a healthy dose vitamins and fibre from low-carb leafy greens to boot! I know it sounds weird, but the Swiss chard really works to give the recipe the thickness you expect of a hummus, even if it doesn't look the part. It's an inclusive dish for parties too, being both keto AND vegan. Try it with an open mind (and mouth)!
Swiss Chard Keto Hummus Recipe
Ingredients:
1lb Swiss chard, stems and leaves
½ cup extra virgin olive oil, divided, plus more
3 garlic cloves, finely chopped
⅓ cup tahini
¼ cup lemon juice, freshly squeezed
Toasted sesame seeds for garnish (*optional)
Directions:
Remove ribs and stems from Swiss chard leaves and finely chop. Tear leaves into small pieces. Set both aside separately.

Heat ¼ cup of olive oil in a large pot over medium-low heat. Cook Swiss chard ribs and stems with a sprinkle of salt, stirring often, adding a splash of water if they start to brown, until tender, around 5–7 minutes.

Add garlic. Cook, stirring, until fragrant, around 1 minute. Add reserved chard leaves by the handful, letting them wilt before adding more. Cook through, tossing until all the leaves are wilted and tender, around 10 minutes. Allow to cool. Strain excess liquid from mixture into a measuring glass. (You should have about ⅓-½ cup liquid.)

Place Swiss chard mixture and 1 tablespoon cooking liquid in a high-speed blender it food processor and add tahini, lemon juice, and remaining ¼ cup olive oil, and blend, adding more cooking liquid if needed, until dip is creamy and only speckles of chard remain. This could take up to 5 minutes. Season with salt to taste if needed.

Transfer dip to a serving bowl and drizzle with more oil and garnish with toasted sesame seeds if desired. Serve with keto bread or keto crackers and lemon wedges. (*This recipe can be made 3 days ahead. Cover and refrigerate to store.)
Did you give this keto Swiss chard hummus recipe a try? If so, let me know what you think in the comments. Or if you share any pics on Instagram, tag me so I can see your creations.