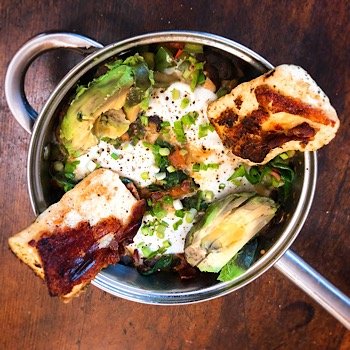 I was making a Thai-themed lunch for some friends, and but had decided to make guacamole as an appy. Being a Mexican dip, it bothered me a little that it didn't fit the lunch theme. It then dawned on me, why does guacamole have to be made with Mexican flavours? Couldn't Thai green curry work with avocado? You can guess how this story ends based on the existence of this fusion keto-friendly Thai green curry guacamole recipe. :)
Keto Thai Green Curry Guacamole Recioe
Ingredients:
1 tablespoon avocado oil
1 tablespoon Thai green curry paste (*Choose one without fish sauce for vegan.)
1 teaspoon ginger, minced
1 clove garlic, minced
½ teaspoon toasted sesame oil
1 teaspoon tamari soy sauce or [coconut aminos]
3 tablespoons lime juice, freshly-squeezed
1/2 tbsp rice vinegar (*Or sub with more lime juice.)
2 large ripe avocados (around 3½ cups, diced)
3 tablespoons shallot or yellow onion
1 small Thai chili, finely chopped (*Or sun ½ jalapeño.)
¼ cup fresh cilantro, chopped
1 pinch ground coriander
1 teaspoon flaky sea salt (like Maldon or Fleur de sel(or to taste)
d black pepper, freshly ground (to taste)
1 green onion (green stalk only), finely chopped (for garnish)
¼ teaspoon sesame seeds, toasted (for garnish)
Crushed red pepper flakes, to taste (for garnish)
Directions:
In a small saucepan, heat the oil until shimmering. Add the Thai green curry paste and minced ginger and garlic, and use a spatula to stir as best you can. Cook and stir for about 2-3 minutes, or until curry paste is fragrant and ginger and garlic are slightly softened. Allow to cool.

Once the curry paste mixture is cooled, add to a medium bowl and mix together with the soy sauce, lime juice, and rice vinegar
Add the the avocado and mash well. Stir in the curry paste and lime juice mixture, shallot, Thai chili or jalapeno, cilantro, and coriander.

Season with salt and pepper to taste, and top with green onion, toasted sesame seeds and chili flakes. Best served immediately, or at room temperature. Store leftovers in the refrigerator for up to 2 days by taking a sheet of plastic wrap and pressing it directly onto the surface of the guacamole to cover.
Did you make this keto Thai green curry guacamole recipe? If so, please let me know how it turned out in the comments. Or if you share pics of your creations on Instagram, please tag me so I can see them. Enjoy! :)