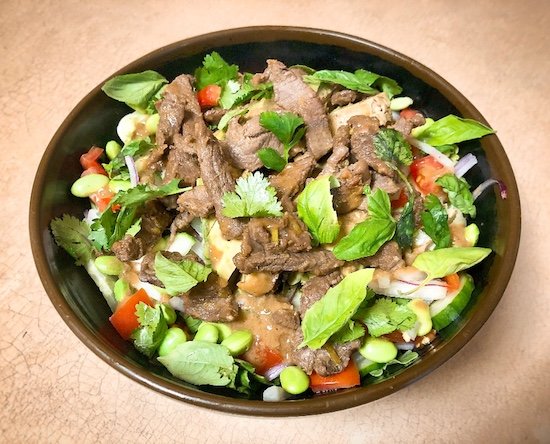 Sometimes I'm in the mood for a more elaborate, more elegant salad, a meal salad, one like I may have gotten at a restaurant once upon a time. I decided to dive a little deeper when I put together this keto-friendly Thai marinated beef salad.
Keto Thai Marinated Beef Salad Recipe
Dressing Ingredients:
Salad Ingredients:
6-8 oz good quality beef steak - sirloin, flank, flat iron, etc.
1 tablespoon avocado oil
Freshly ground black pepper, to taste
4 cups lettuce or mixed greens
½ cup tomato, diced
¼ cup red onion or shallots, thinly sliced
½ cup cucumber, cut horizontally then cut into slices
½ cup keto pickled daikon, chopped
1 avocado, sliced
½ cup cooked shelled edamame
¼ cup cilantro leaves, lightly packed
¼ cup basil leaves, lightly packed
1 tablespoon roasted salted peanuts, chopped or roast cashews, chopped (for garnish)
Directions:
Place in a sealable plastic bag or small glass dish. In a medium bowl combine 1 tablespoon of the lime juice, soy sauce, canola oil, brown sugar, garlic, ginger and red curry paste.

Pour half the mixture into the bag with the meat. Add the remaining 2 tablespoons lime juice and to the bag. Seal tightly, and marinate meat in refrigerator at least 4 hours or overnight, turning occasionally. Add the rest of the mixture to a sealable glass container to be used as dressing for the salad. Taste and season with salt, white pepper and liquid stevia (if desired). Store in the fridge until ready to use.

Spray grill or grill pan with cooking spray and preheat. Grill steak until medium-rare, about 5 minutes per side, depending on desired doneness. Let rest until room temperature then slice thinly against the grain.

Combine salad ingredients, cilantro, basil and beef in a salad bowl, reserving some of the herbs for garnish. Add the reserved dressing and toss to coat. Pour the salad onto a large plate, garnish with fresh herbs and peanuts or cashews and serve.
Did you make this keto Thai marinated beef salad recipe? If so, please let me know how it turned out in the comments. Or if you share pics of your creations on Instagram, please tag me so I can see them. Enjoy! :)