I'm sure like many people out there, you've had to let go of things in life as a result of the pandemic. I'm not referring to the loss of health and/or life of friends or loved ones that people all over the world have faced, involving its own kind of grieving process that is unrelated to what I'm addressing here.
I'm talking about businesses, hobbies, activities, jobs and other meaningful lifestyle elements that give life meaning. If what you lost has special meaning for you, finding a way to say goodbye to it in a meaningful way serves to give a sense of closure that can help you move on to new things. This was especially true for me when it came to the difficult decision of closing down my dojo after 14 years of teaching in the area.
In 2006, I started teaching a martial arts class in the Vancouver area, specifically Richmond, close to where I lived. I started it because I wanted to continue teaching the art of Can-Ryu Jiu-jitsu, an art I had studied since I was young in which I rose through the ranks and eventually became a black belt and teacher. In doing so, I got to experience the joy of sharing the gifts of training that had been so deeply rewarding to me in my life. It wasn't just about learning to perform a bunch of techniques which had the purpose of developing self-defence skills, though I did all that and then some. I wanted to help other people to gain the same confidence I got in my body, mind and heart that had supported for the rest of my life, helping me to succeed in all my various life endeavours.
In May 2020, after the COVID-19 pandemic forced us to stop teaching and shut down all productions in the film industry, we no longer had any means to pay the rent for our dojo with no clue of when things might recover. I had to make the difficult but ultimately correct decision to close our doors.
Easing the Transition
Since we had to close our doors so suddenly, and we had only just started a semester for our children's program, I decided to figure out how to teach over Zoom and resumed teaching those classes in that format. I felt bad about having taken the parents' money without being able to give them what they paid for, and knew their kids all must be bummed about being cooped up at home like the rest of us.
To make the class work, I had to ensure that each child was training with a parent as their partner. The parent would hold pads for them when striking, attack them so they could practice self-defense scenarios, and even took part in the warm-up and strength training at the start of each session. I even got the parents involved by having the kids "teach" the self-defence techniques to their parents and "attack" them so they could try doing the moves for themselves. We also incorporated a few fun games that served to make the training more fun for all. This became a bonding time between parent and child that made me smile each week.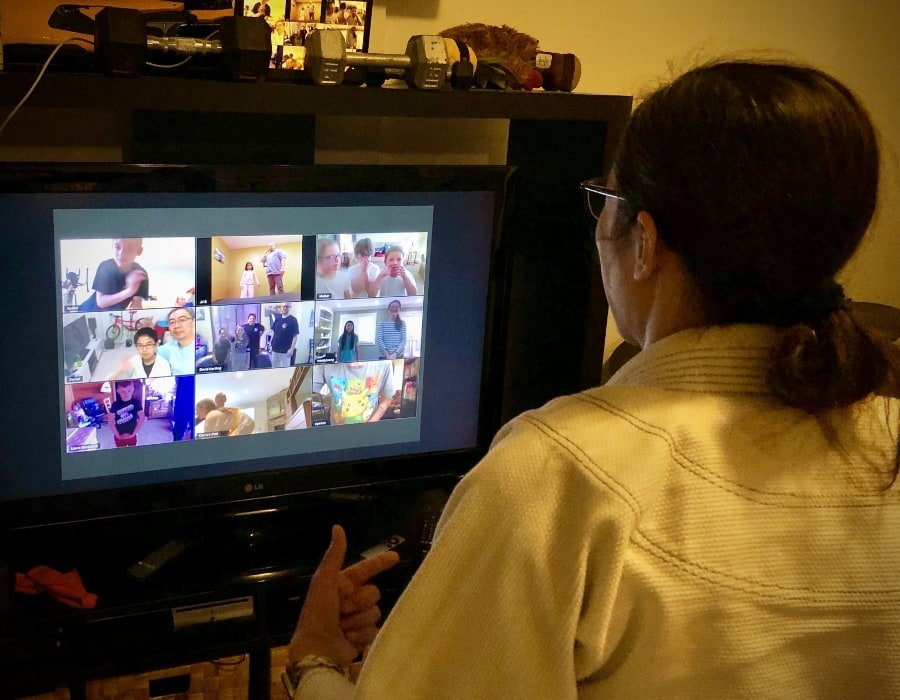 At first I thought I would just teach the classes to finish the semester, but after a few weeks of tweaking and adjusting my teaching to the new format, I found myself enjoying the challenge of teaching over Zoom, and looked forward to seeing all their faces on my iPad each Saturday. After finishing the semester, I asked if parents were interested in keeping the classes going. Most of the kids were keen to keep doing it, so I kept it up until the summer, knowing that parents would likely want to start doing more outdoor activities and travel, taking advantage of the sunny weather and the easing of COVID restrictions.
Answering the Call
I told the parents that we would take a break for the summer and reevaulate things based on what was going on with the pandemic come fall, then see if it made sense to start up the Zoom classes again once school started. I figured it wasn't likely going to start again as parents would probably find other activities for their kids to do. And it probably would have ended there if not for one little girl's tenacity for training.
I received an email addressed by one of my students, a girl named Olivia, but through her mother's email account. She reached out asking about summer had been for Chris and I, saying she had been going hiking a lot. She then asked when our Zoom Jiu-jitsu classes might be starting up again. I welled up a little to hear that the classes meant that much to her that she went out of her way to ask herself. It wasn't her parent spurring her on. I decided to reach out to all the parents to see if anyone else wanted to start training again and found most of them did. Since there was no end in sight to the pandemic, we decided to start up classes again, keeping them going for the rest of the school year all the way into July.
Letting Go
When summer rolled around once again, we decided to end the Zoom classes for good. I knew the parents would likely be willing to keep their kids doing the classes over Zoom, but since martial arts schools with actual physical locations were starting to open up again, I decided it was best to stop teaching so they had the incentive to find better ways of giving them the full training experience at a dojo, something Chris and I weren't able to commit to starting up again, especially since we were getting busier with film work.
I decided to hold one last in-person class outside with a little BBQ lunch afterward (with plenty of COVID safeguards) so we could all see each other in person, provide a lesson that served to consolidate all they had learned so they could see how much they knew and could apply should the need arise in life and then enjoy a mini-celebration of the years they had spent training with us. Unfortunately, not all the families were able to make it since it was the summer and a few had vacations planned. As a good-bye, this hadn't sat well with me, especially since a couple of them had been strong supporters of the dojo. I had hoped to find a way to teach them privately somehow after the summer was over, but then the pandemic got worse with the variants and I deemed it a little too risky to do private indoor training, which was the only practical choice once they fall rains came back.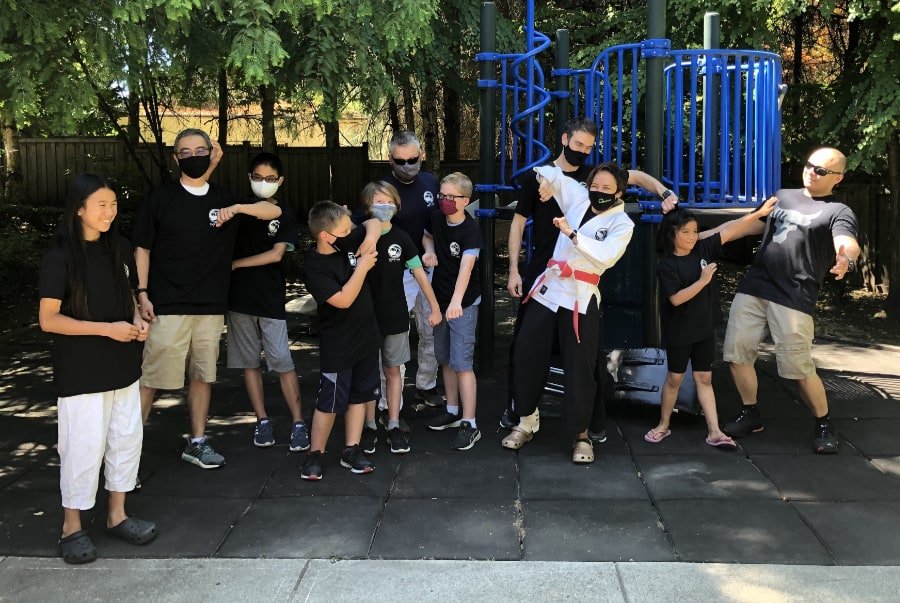 Private Goodbyes
By the time the December holiday break rolled around, all the kids who had missed the final session were vaccinated, so I decided to reach out and arrange for private lessons with the kids and parents who had missed the final class but had expressed strong interest at wanting to go. I also reached out to Olivia and her family. I knew she had started training in a new dojo, learning and competing in Brazilian jiu-jitsu, even winning gold at a few tournaments. I wanted to give her an extra private session related to ground fighting as a smaller competitor (something I had experience with), to thank her for her enthusiasm for training, and to give her a special send-off knowing that she would continue to thrive in the martial arts.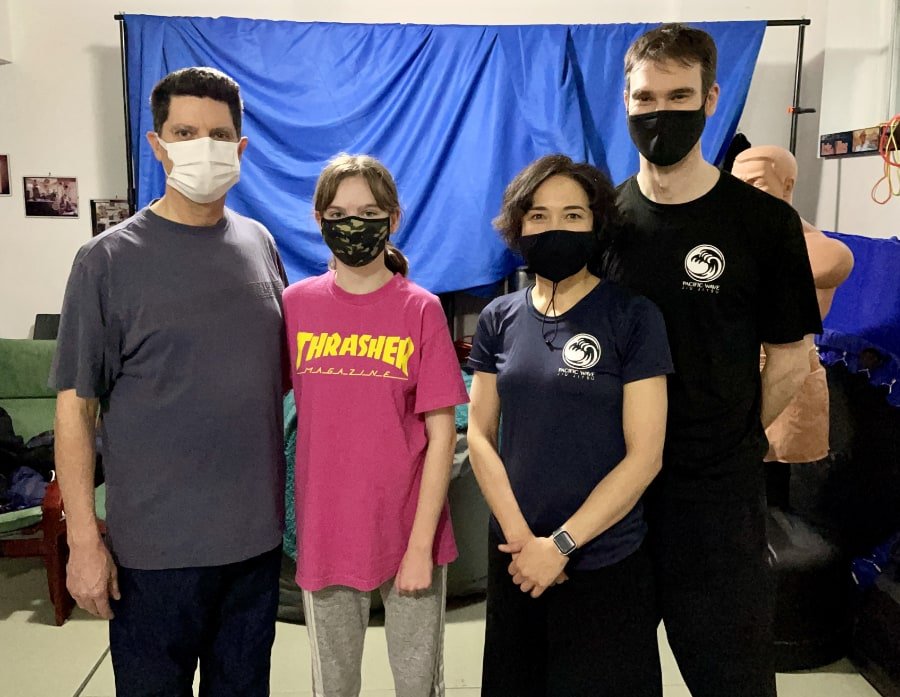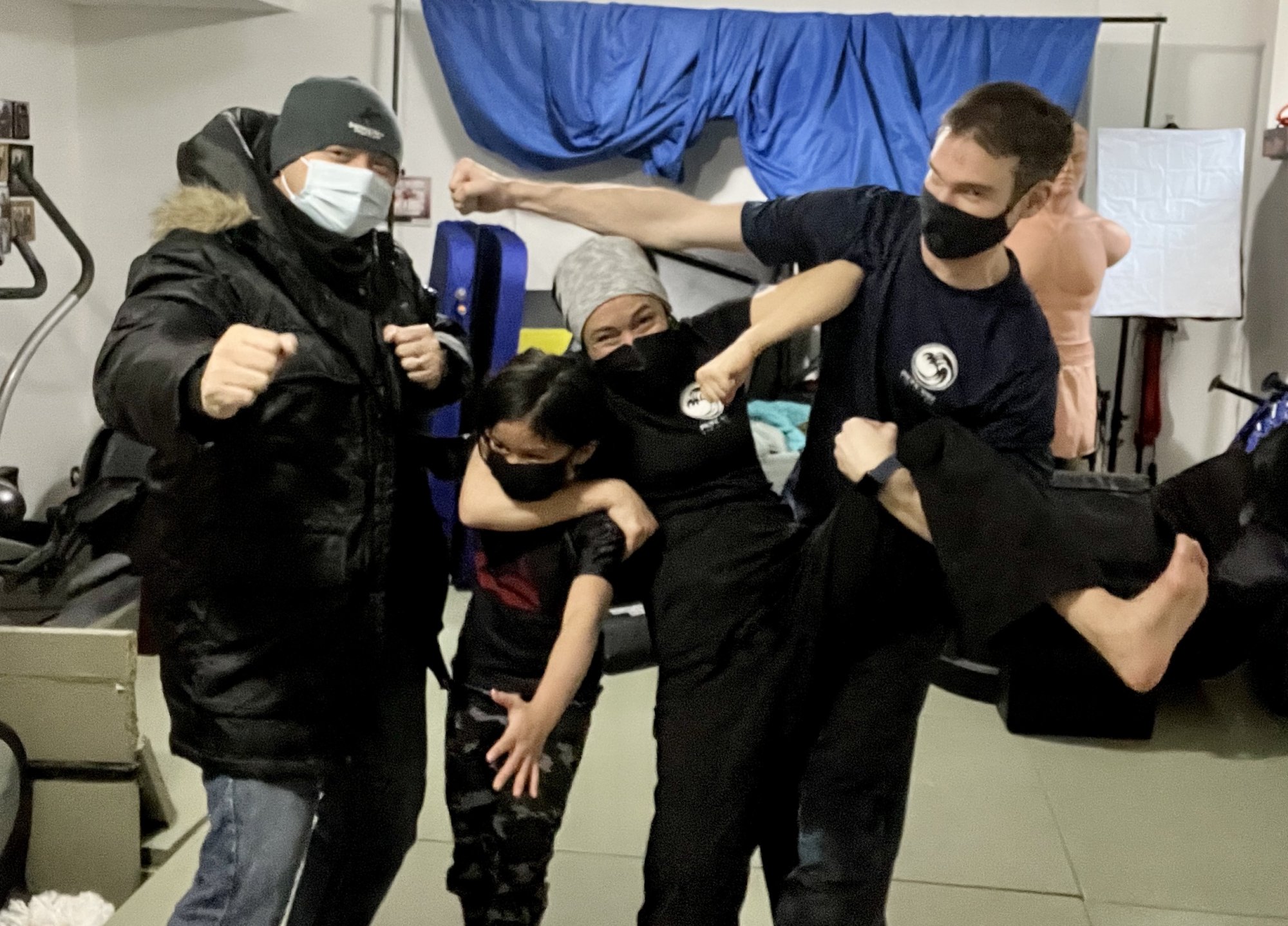 Making My Goodbye to the Children Mean Something
All the parents and kids who attended these private sessions appreciated the extra lengths I took to include them, but it was as much for us as it was for them. Teaching martial arts has never been about the money for me. It was always motivated by being able to impact lives in the ways that mine had been impacted through my own training with teachers I respected and fellow students that shared in the journey. This is still my most important driver when it comes to teaching, even now that I'm not running a dojo anymore. And this is why it meant so much to me to make those goodbyes meaningful, especially for those kids.
I knew my adult students understood why we had to close the dojo, and we have stayed friends and stayed in touch with most of them. But they are better able to roll with the punches and find other activities to fill their time. And because we are able to stay in touch with them socially as friends, it doesn't feel like there needs to be a big final goodbye (though I do still want to do one big BBQ-style event with the adult students who were our strongest supporters over the years once the pandemic restrictions lift enough to allow it).
Kids are different. They don't necessarily have the cognitive skills to look back on their journey and integrate all they have learned into their experience as they move forward in life, to say goodbye meaningfully as they move on to another chapter in their lives. This is what I wanted to give them, the opportunity to say goodbye, to appreciate how much their training has impacted their lives, and to take those lessons with them so they can keep applying it to all their future endeavours.
Making Your Own Goodbyes Meaningful
Here are a few ways of making goodbyes more meaningful that have helped me not only in the closure of my dojo, but with other ending chapters in my life.
Taking Stock: This involves looking back over the years and appreciating all the highlights of your time doing that activity, as well as all that you learned. You might do this by going through old photos and letters, or talking about your memories with people who shared in the experiences. This allows you to integrate those experiences and take the lessons with you into the rest of your life's endeavours. Doing this might also help others to do the same if they are also in a position where they too, are saying goodbye.

Showing Appreciation: This involves reaching out to the people who supported your efforts like teachers, training partners, cheerleaders, or students. This may be done by sending a private message, having a party, or holding a special class like I did. You might even give personal gifts to people that have particular meaning to them.

Sharing with the World. If the thing you're saying goodbye to was particularly meaningful to you, you might even want to share your goodbye with the world outside that inner sphere. This is something I have yet to do in my own situation, but know that it is something I will come around to. I suppose that this blog post is one way I am doing this, but I want to take it further at some point in the future. Sharing the depth of your experience with whatever it is you're saying goodbye to can serve to inspire people to find something similar to what you experienced in their own lives. Seeing how much it mattered to you might give someone an epiphany and realize it is something they would like to seek out or even create in their own lives.
Saying goodbye to something important in your life is never easy, but finding ways to make it meaningful can ease the transition, as it has done for me in the closure of my dojo. Have you had to say goodbye to something important like this over the course of the pandemic? Did you find ways to say goodbye that helped you in your transition? If so, please share in the comments so everyone can benefit from your experiences.