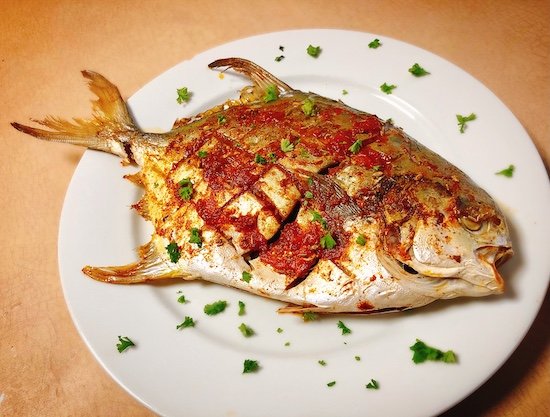 Sauté a tomato down to a paste, cook it with 2 kinds of paprika, garlic, thyme and fennel seeds and you get this flavourful, wonderfully versatile tomato butter that is amazing on roast fatty fish (try mackerel, salmon or pompano) or even just spread onto keto toast. I used it on a whole 2-lb pompano (seen here), but it's just as good on fillets.
Keto Tomato Herb Butter with Fennel Seeds Recipe
Ingredients:
Directions
Heat avocado oil in a medium skillet or pan to medium-high heat. Add the diced tomatoes and sauté for 2 minutes. Reduce the heat to moderate and cook, stirring and mashing the tomatoes with a fork until a thick puree forms, about 15 minutes.

Add the hot and sweet paprikas and cook, stirring, for 1 minute. Scrape the tomato puree into a bowl and let cool. Stir in the garlic, thyme, fennel seeds, and lemon zest (if using).

Fold in the butter and season with salt and pepper. Use at room temperature on fish, chicken or keto bread. Store unused portions in the fridge, but make sure you let it come to room to soften temperature before using to make it easier to spread.
Did you make this keto tomato herb butter with fennel seeds recipe? If so, please let me know how it turned out in the comments. Or if you share pics of your creations on Instagram, please tag me so I can see them. Enjoy! :)