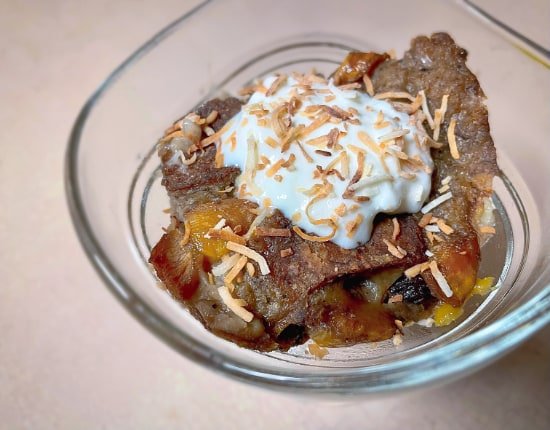 I had some leftover artisan sourdough that I didn't want to waste, so I thought, "Why not make a vegan carb up bread pudding recipe?". I decided to use up some mango and banana I had kicking around in my freezer to make this tropical mango banana bread pudding. To keep the fat level down and make this a carb-up dessert, I used psyllium husk eggs instead of real eggs, but if you don't mind the added fat you could simply replace the soaked psyllium husk with 4 large eggs.
Vegan Carb-Up Tropical Mango Banana Bread Pudding Recipe
Ingredients:
*Optional Garnish Ingredients
Plain 0% fat Greek yogurt or coconut milk yogurt
Raw honey (*Or [sugar-free honey substitute]
Directions:
In a large mixing bowl, combine the bananas, date paste, soaked psyllium husk, spices, and salt. Whisk until well combined, then whisk in half the coconut milk beverage. Once fully incorporated, whisk in the remaining half, extracts, and rum/tequila. Stir the cubed bread into the mixture until coated. Put in the fridge overnight to allow the bread to soak up the mixture.

Preheat oven to 350F. Stir in ½ the raisins and diced mango, saving around ½ cup of mango for the top. Pour the entire mixture into a 3-quart casserole dish sprayed with cooking spray. Sprinkle the remaining raisins and mango on top.

Bake pudding in preheated oven for 45-50 minutes, or until completely set and the top is a nice golden brown.

Remove from oven and garnish with toasted coconut and serve warm or cold, topped with a dollop of plain yogurt and a drizzle of honey, if desired. Store in the fridge for up to a week.
Did you make this vegan carb-up tropical mango banana bread pudding recipe? If so, please let me know how it goes in the comments. Or if you share pics of your creations on Instagram, please tag me so I can see them. Enjoy! :)