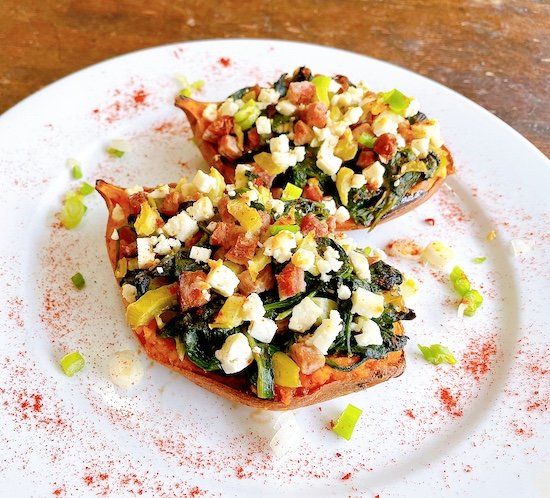 I wanted to do Easter themed carb-up dinner for Good Friday using one of my favourite carb-up ingredients, sweet potato. I figured ham is pretty traditional, but wasn't sure how to put them together without making the sweet potato into a side dish. I decided to do a twice-baked sweet potato with a topping combining ham with a modified lower fat creamed spinach with a light sprinkle of goat cheese on top. The combination was delightful and was enjoyed by all.
Carb-Up Twice-Baked Sweet Potato with Ham, Creamed Spinach and Goat Cheese
Ingredients:
Directions:
Preheat oven to 400F and line a large baking sheet with a silicon mat. Rub the sweet potatoes with avocado oil and sprinkle with kosher salt and place face down on a baking sheet (or another baking sheet depending on size) and put in the oven to bake until fork tender, around 25 minutes.

While the sweet potatoes bake, prepare the topping. Add butter to a small skillet and heat to medium. Once the butter has melted, continue to cook until the butter has browned. Stir in the spinach along with a sprinkle of kosher salt and saute until wilted. Stir in non-dairy milk, nutritional yeast, ground mustard, white pepper and nutmeg, Stir in ham and cook until heated through. Taste and add more salt if desired.

Change the heat on the oven to 350F. Allow sweet potatoes to cool a little, then mash up the potato inside the skins using a fork. Top with the ham and spinach mixture then sprinkle with crumbled feta and bake for 15-20 minutes or until feta has melted slightly. Remove from oven. Sprinkle with smoked paprika, green onions and cilantro and serve hot.
Did you make this carb-up twice-baked sweet potato with ham, creamed spinach and goat cheese recipe? If so, please let me know how it turned out in the comments. Or if you share pics of your creations on Instagram, please tag me so I can see them. Enjoy! :)