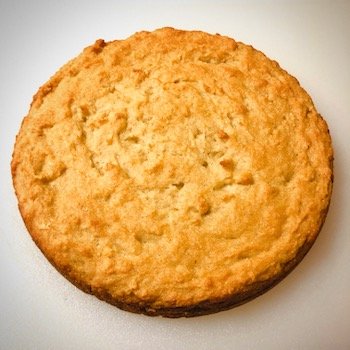 This is my standard go-to recipe when I need a white cake base for something. I rarely just make a regular cake, like a birthday-style cake, but if that's what you're doing, you'll want to double the recipe and make 2 pans of it so you can join them together with your chosen icing.
Keto Vanilla Sponge Cake Recipe
Ingredients:
Directions:
In a medium mixing bowl, sift together all the dry ingredient. Set aside.

Preheat the oven to 350F. Line the bottom of a 9" round cake pan with parchment paper. Spray the paper and sides with cooking spray.

In a large bowl, use an electric mixer on low to cream together the erythritol and butter, until fluffy. Using medium speed, beat in the eggs, one at a time, then the almond milk, liquid stevia, and vanilla extract.

Beat in the flour mixture gradually at low speed just until fully incorporated.

Transfer the dough to the pan and smooth the top with a spatula. Bake for 18-22 minutes, until the top is lightly golden and springs back when pressed.

Allow to cool for 10 minutes before turning out onto a cooling rack to fully cool.
How did you put this keto vanilla sponge cake to use? Did you try it in my keto berry trifle recipe? Or did you ice it up and turn it into a birthday-style cake? Either way, please let me know how it goes in the comments. And if you post any pics on Instagram, tag me so I can see your creation. Happy baking! :)