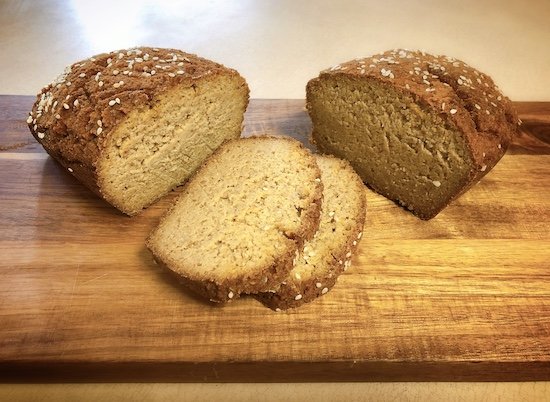 I love the taste and consistency of my eggless keto bread recipe, but because it uses whey and butter, it can't be eaten by vegans, so I set about correcting this. And that's how this vegan keto bread recipe was born.
Vegan Keto Bread Recipe
Dry Ingredients:
Wet Ingredients:
Directions:
Sift together all the dry ingredients together in a large mixing bowl and stir until well combined.

Add all the wet ingredients to a small mixing bowl and stir with a spatula until well combined.

Add wet ingredients to dry and mix until it forms a dough. Knead with your hands for 1-2 minutes. Set aside to rest for 10 minutes. Preheat oven to 350F.

Mould the dough into a loaf with a round top. A rounded top keeps the dough from becoming too dense. Add to a 8x4" loaf pan with parchment paper or a silicon loaf pan. Smooth out any holes on the top with gently with wet hands.

Sprinkle sesame seeds or any other preferred topping.

Bake on the lowest rack for 60-75 minutes. Test for doneness with a wooden skewer. If it comes out clean, it's done. Allow to cool for 15 minutes then remove from pan and allow to cool completely on a cooling rack completely before slicing and serving. As with all gluten-free keto breads, toasting it helps improve consistency. Wrap in parchment paper and store in the fridge for 2-3 weeks.
Did you try this vegan keto bread recipe out? If so, let me know how it went in the comments, or tag me in any photos you share on Instagram so I can see your creation. :)