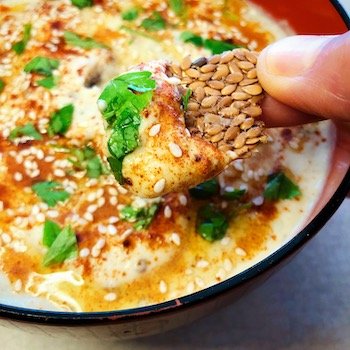 I wasn't hugely into hummus before I went keto, but I did make it for parties regularly so as to offer a healthier dip that most people liked. Jamie Oliver's hummus recipeJamie Oliver's hummus recipe was the best of all the ones I tried.
After going keto, I tried a few "ketofied" hummus recipes that didn't really work for me. Cashew hummus was higher carb than I would have liked for such a calorie dense dip. Cauliflower hummus seemed promising at first, but it developed a weird stanky flavour the longer it sat. There had to be a better option.
Then I remembered really liking baba ganoush, which has a similar flavour profile as hummus, but with a creamier, another texture. Since my expectations for this middle eastern dip were different, I don't feel like I am "missing" the mouth feel of traditional hummus while satisfying the taste requirements. Add a few chopped black Kalmata olives and you've got a party-pleasing dip that leaves everyone satisfied, but me most importantly. Huzzah!
"Way Better than Any Keto Hummus" Baba Ganoush Recipe
Ingredients:
Directions:
Preheat oven to broil on high. Using a fork, prick the skin of each of the eggplant halves several times. Place them on a baking sheet lined with baking foil or a silicon mat for 3-4 minutes until the skin in lightly charred. Flip them and broil another 3-4 minutes.

Once the eggplants are charred, set the oven to 430F. Bake for 30-40 minutes, until they are wrinkly and soft inside. Remove from the oven and allow to cool.

Slit the eggplants and scoop the flesh out. Put it in a colander to drain excess fluid. Throw out the skins and stems.

Put the eggplant, garlic, lemon juice, salt, chili flakes, olive oil , salt, in a blender (*I use the Blendtec Blender) or food processor and pulse until smooth.

Transfer to a bowl and stir in chopped olives and 1 tablespoon parsley. Garnish with olive oil, parsley, smoked paprika and sesame seeds. Serve with flax seed crackers, keto bread or cut veggies.
Did you go ahead and try this baba ganoush recipe? Way better than any attempt at a ketofies hummus recipe, am I right?!? But don't let me bully you into consensus. Please share your thoughts in the comments. Or for extra credit, show me a pic of your creation on Instagram by tagging me. :)