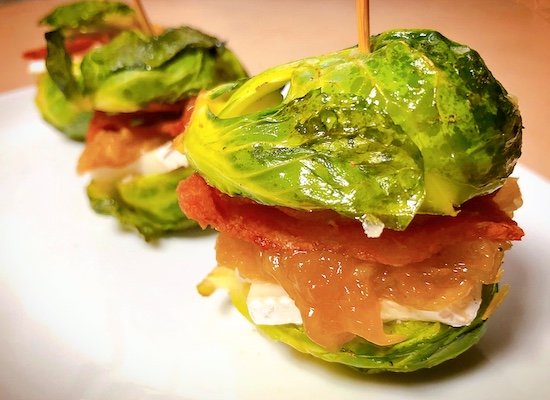 Everybody loves sliders as an appy, but what can one do for low-carbers that will please everyone? Enter the keto-friendly bacon brie brussels sprouts slider. It's simply a matter of using roasted halved Brussels sprouts sliders as the bun, then adding bacon, brie then slathering on some caramelized onion jam. Secure the "sandwiches" with toothpicks and you've got a delicious, eye-catching appy that everyone can enjoy!
Ingredients:
Directions:
On a large rimmed baking sheet, toss brussels sprouts with avocado oil and season with salt and pepper. Cook until just tender, about 20 minutes. Allow to cool slightly.

To assemble slider, top the cut side of one brussels sprout half with a couple of squares of bacon. Top with a piece of brie on top then a dollop of onion jam on top of brie. Place a second brussels sprout half on top, cut side-down, then secure the sandwich with a toothpick. Repeat with the rest of the ingredients.
Did you make this keto bacon brie brussels sprouts sliders recipe? If so, please let me know how it turned out in the comments. Or if you share pics of your creations on Instagram, please tag me so I can see them. Enjoy!