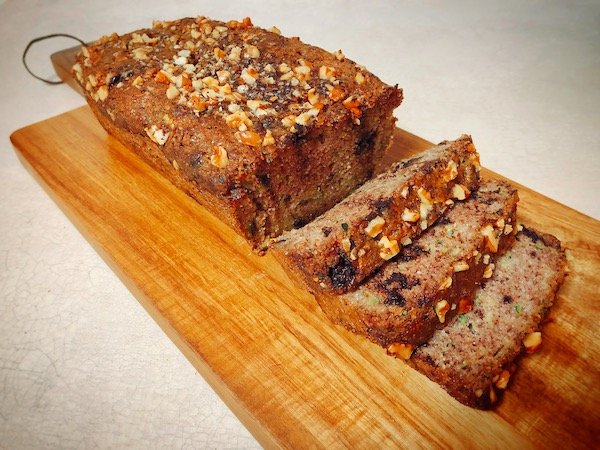 We all have our comfort foods. My mom wasn't a huge baker growing up, but I remember her making this awesome chocolate chip zucchini banana bread. It was soft and delicious and had those lovely bursts of chocolate... it's comfort in a loaf for me, reminding me of my care-free youth.
Yesterday, after we had dropped off our 10-year-old cat Kaylee at the vet's to try putting her on an IV for the day in one last attempt to help her get the strength to feed and recover from a chronic kidney problem that had only come to light the past week. I went home, and while I deeply hoped she would recover, I realized that over the past day, she had decided she was ready for it to be over and was communicating to us her fight was done and she wanted an end to the suffering. Since there was nothing to be done but wait and see how the IV went, I baked. This is the recipe that I wanted to bake. After we got home, and ate a meagre dinner, I was glad to have the comfort that this keto-friendly, banana-flavoured chocolate chip zucchini bread brought us. In sharing it, I hope it brings comfort to others in their times of grieving. Well, here's that recipe. I might have to go and cry now....
Keto Banana-Flavoured Chocolate Chip Zucchini Bread Recipe
Ingredients:
Directions:
Squeeze out all the excess moisture from the zucchini using a cheese cloth or tea towel. Set aside. Grease a 9×5 bread pan or use a silicon loaf pan (my preference).

Preheat oven to 325F. In small bowl, mix together almond flour, coconut flour, salt, baking soda, xanthan gum, baking powder, and cinnamon.

In large bowl, beat eggs, butter, coconut oil, sweetener, and extracts.

Beat in flour mixture until well combined.
Stir in zucchini and chocolate chunks. Pour into greased pan. Sprinkle chopped walnuts on top.

Bake for 60-70 minutes at 325F or until a toothpick inserted comes out clean.

Cool for about 15 minutes, then remove from pan. Allow to cool completely. Store in refrigerator and slice as needed.
What's your favourite comfort food recipes? I sure would love to know as I think I am going to need a lot of them over the next while. Please share your ideas in the comments. If you make this recipe and it brings you comfort or joy, please let me know in the comments too. There's something to knowing that you're not alone in your grief and that you can help others somehow as you go through the process. Instagram pics are cool too, so if you make it, I'd love to see your work if you could tag me in your pics. Thanks everyone.