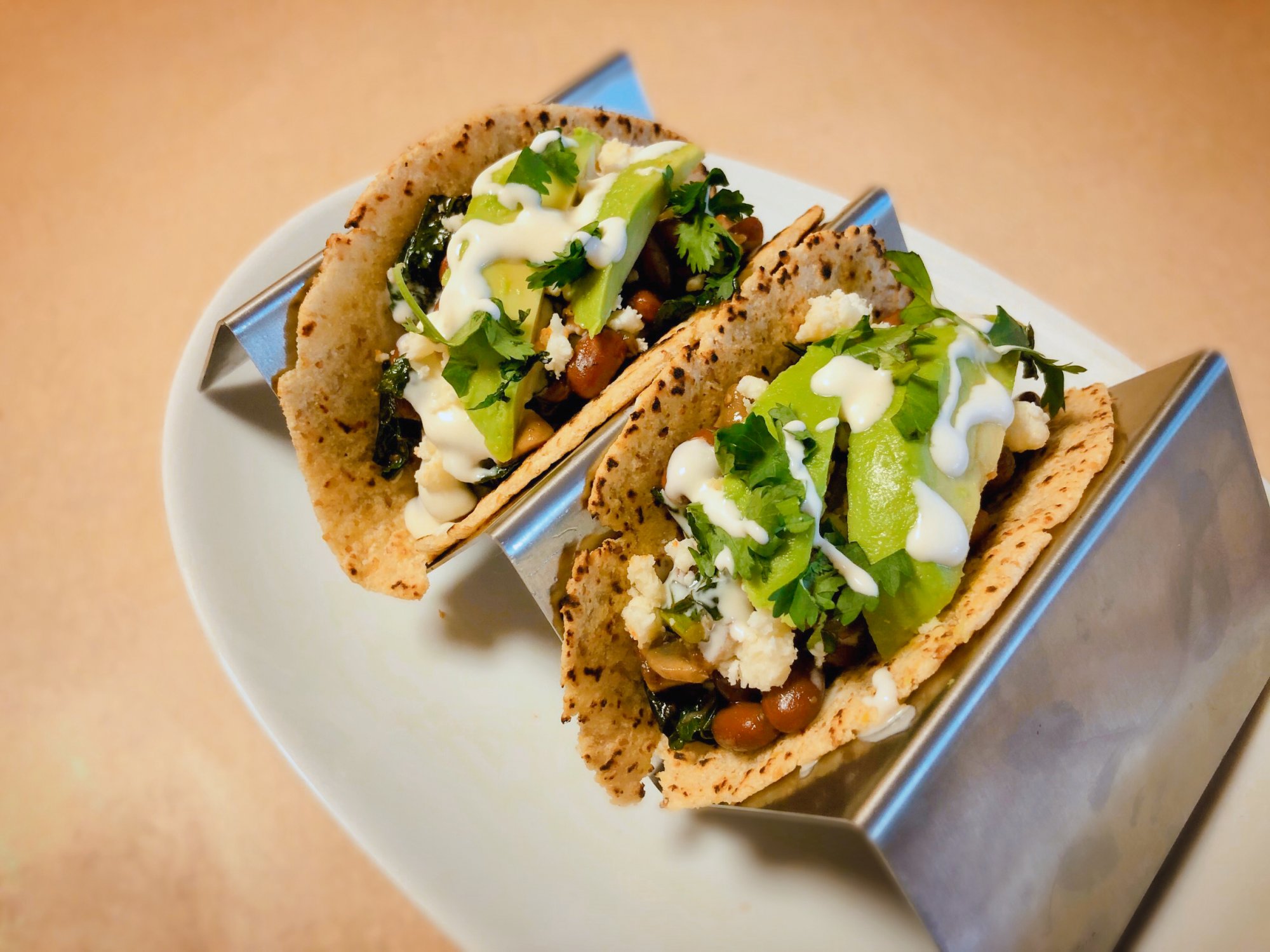 Dang! I am just loving black soy beans these days and this black soy bean, kale and mushroom taco recipe is no exception. The ease in which you can pull off these tacos on a busy weekday night makes them a new fave for me, giving me a nutritious, flavourful meal when I'm in the mood for a vegan taco Tuesday (or any day tacos!).
Ingredients:
One 14oz can of black soy beans,
3 tablespoons avocado oil
¼ cup red onion, finely chopped
2 garlic cloves, minced
1 small jalapeño, finely chopped
1 chipotle pepper in adobo sauce, finely chopped
1 cup white mushrooms, diced
2 cups kale, chopped (*I prefer black kale for this recipe if available.)
1 teaspoon ground cumin
2-3 tablespoons lime juice, freshly squeezed (to taste)
Flaky sea salt (like Maldon or Fleur de sel and freshly ground freshly ground black pepper (to taste)
Directions:
Empty can of black soy beans into a colander. Gradually spray the gelatinous goo with water, draining it into a cup until you have around ½ cup of this liquid. Set aside and rinse the rest of the beans off.

In a large skillet or wok, heat avocado oil to medium-low heat. Add onion, garlic, and jalapeno with a pinch of salt and sauté for about 2-3 minutes minutes or until onion is translucent. Stir in chipotle, oregano and cumin and sauté until fragrant, around 1-2 minutes. Stir in kale and mushrooms and cook another 5-7 minutes or until kale starts to wilt.

Add drained black beans and toss to coat.
Add ¼ cup of reserved bean liquid, simmering until liquid has mostly absorbed/evaporated. Continue adding liquid, ¼ cup at a time, stirring until water has mostly evaporated and beans are well coated. Season to taste with lime juice, salt and pepper as desired.

Serve in vegan flax seed tortillas, standard keto tortillas or add to a salad. Top with cilantro, avocado, crumbled cheese and a drizzle of sour cream, using vegan versions of the dairy if strictly vegan. Serve warm.
Did you make this vegan keto black soy bean, kale and mushroom tacos recipe? If so, please let me know how it turned out in the comments. Or if you share pics of your creations on Instagram, please tag me so I can see them. Enjoy! :)