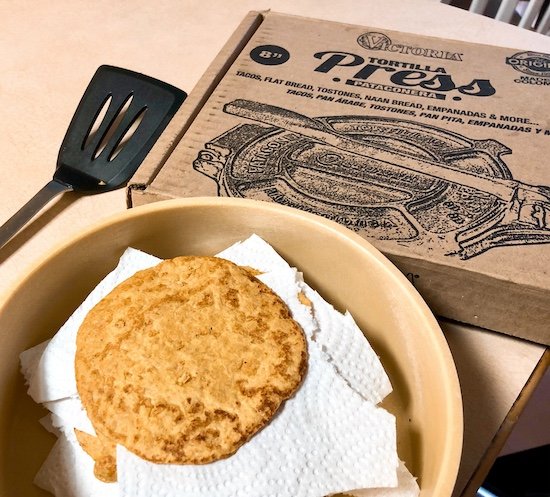 I tried a number of different keto tortilla/wrap recipes but none of them quite did it for me. They were either a little too dense, leaving you feeling too full afterward, or they just didn't hold their shape well and fell apart as you cooked them or eat them. This is the first recipe that I felt worked for me on all fronts. I generally prefer to use lettuce leaves as wraps because it's way less hassle, but sometimes it's worth the effort to have them as a treat for a special meal.
Keto Flaxseed Soft Tortillas/Wraps Recipe
Ingredients:
Directions:
In a high-speed blender (like a Blendtec) blend flaxseed on high speed until it becomes flax meal. You can use flaxseed meal from the store if you wish, just make sure the meal ground finely or it won't absorb all the water in the recipe and it will become sticky.

In a small saucepan, bring the water to boil. Remove from heat, stir in all the spices and add the flaxseed meal all at once.

Stir immediately with a wooden spoon, until the flax meal absorbs all the water and forms a dough ball. As you stir, the dough will form. It take about 1-2 minutes or so.

Remove the dough ball from the saucepan and transfer onto a piece of parchment paper or a silicon mat to keep the dough from sticking to the counter. If the dough is overly sticky, sprinkle extra flax meal onto the ball to make it less sticky.

Divide the ball into 6-10 dough balls around the same size (6 will roll into 10" tortillas, 8 into 8", and 10 into 6" ones respectively). Place one of the dough ball onto a piece of parchment paper. Place another piece of parchment paper or a second silicon mat on top to keep the dough from sticking (This keeps the dough from sticking as you roll them out). Flatten the dough ball with your hands to form a disk between the paper sheets. Roll with a rolling pin until flat, around 2-3 mm thick. Peel off the top piece of parchment paper. If you want the tortilla/wrap to be perfectly round, press a saucepan lid into the dough and cut off the edges. Remove the outside dough to re-form later. (Alternatively, try out the Victoria tortilla press for a much easier way to shape your tortillas and other flat breads.)

Heat a non-stick pan to medium-high heat. Flip the prepared wrap onto a non-stick pan, then peel off the last piece of parchment paper or silicon mat. Cook the tortilla over medium-high heat for 1-2 minutes or until the borders are dry but the center is soft, and you can easily slip a spatula under the wrap. Flip the wrap over with the spatula. Cook for 1 more minute. Take care not to overcook as it will get crispy and lose the soft texture you want in a wrap. Remove from heat and put on a plate or tortilla warmer.

Repeat those steps with the rest of the dough balls. If using parchment paper, you can reuse it for the rest of the wraps. Feel free to make one extra wrap with scrap pieces if you used a lid to cut them.

If making tacos, serve warm or cold with (https://feednflow.com/blog/post/mexican-pulled-pork-carnitas-for-tacos-etc---keto-low-carb), keto taco beef / vegan ground round, keto Mexican pulled pork carnitas along with keto guacamole, salsa, sour cream or anything else your heart desires. These wraps aren't limited to taco nights. They can be used for any kind of wrap you like.

Store in the fridge for up to 3 days on a plate covered with a plastic wrap, to prevent them from drying. You can also freeze them. Just make sure you wrap them flat, inside a zip plastic bag. Allow for 2-3 hours to defrost. Rewarm them slightly in a heated frying pan for a few seconds before using.
I know there are a lot of steps here to make this recipe, but it's not so bad when you get the hang of it. Let me know how it goes in the comments and if you share any pics on Instagram, tag me so I can see them. :)