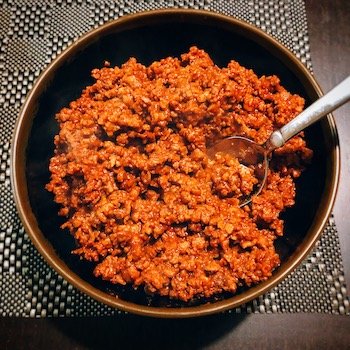 If you're on the keto diet, you probably like to come back taco beef (whether you're using meat or the vegan version) because it's so versatile. You can add it to your favourite keto taco shell recipe and relive the glory of taco Tuesdays, or throw together a taco salad for an easy lunch.
Keto Taco Beef (Or Vegan Ground Round) Recipe
Ingredients:
Directions:
Brown ground beef in a skillet (*just break apart veggie round in skillet if using). Add 3 tablespoons of taco seasoning (you can use more or less depending on your tastes), tomato paste and bone broth. Simmer gently on low until most of liquid has evaporated.

Adjust seasoning with salt and pepper as desired and serve with keto taco shells or add it to a taco salad.
There are tons of ways of using taco beef. What are some of your favourites? Please share them in the comments or if you make something with this recipe and share pics on Instagram, tag me so I can see your creation. :)